I was just telling my husband the other night how I have been craving chicken fajitas from our Mexican restaurant down the road. They seriously have the best fajitas that will make your mouth water. I don't have the fancy serving skillets that they bring to the table so I recreated one of my favorite Mexican dishes in a easy way. These Guacamole Chicken Fajita Roll Ups are bursting with all kinds of Mexican flavors.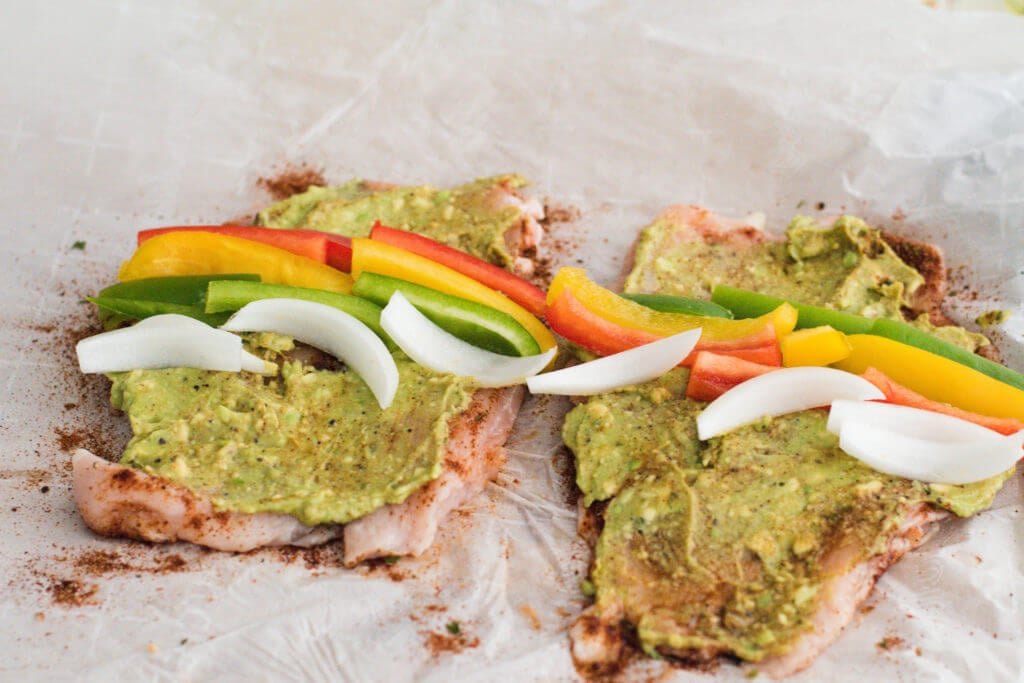 To make this a packaged deal, I flattened the chicken breast and filled the middle with smashed avocado, peppers and onions along with my homemade fajita seasoning. Next, I simply took one end of the chicken and started rolling. Once rolled tight, I secured each chicken breast with a tooth pick and sprinkled more of my delicious fajita seasoning over the rolled chicken. It may seem complicated to make, but turns out, it is actually really easy and doesn't take long at all.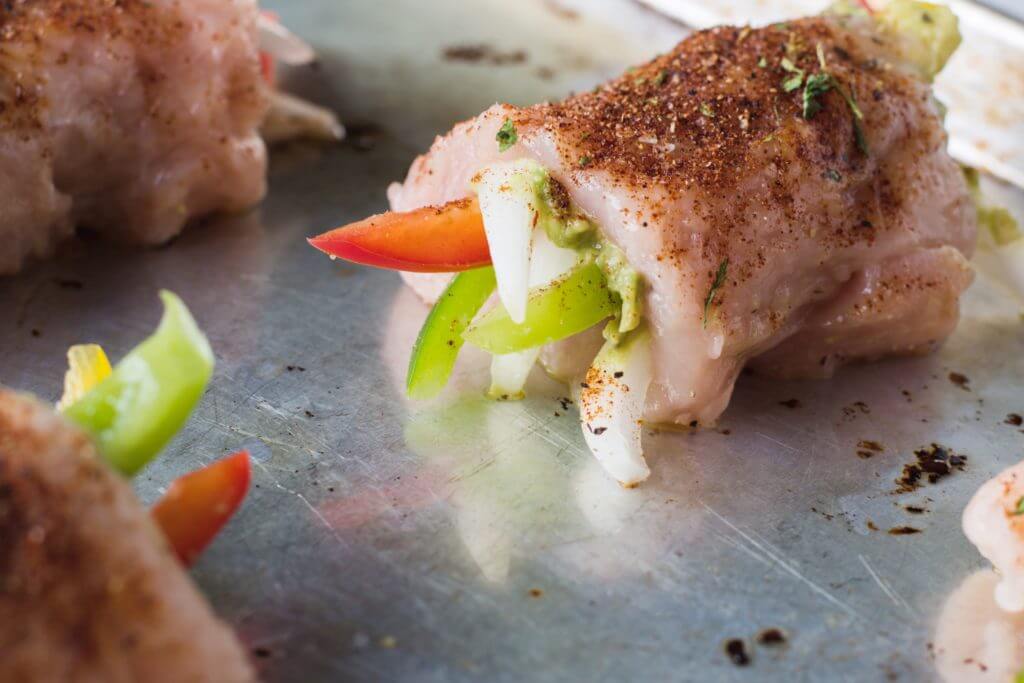 I serve these roll ups with my Cilantro Salsa that is better than any restaurant style salsa and it is also Whole30, Paleo and Keto compliant with no sugar added. If you are craving Mexican fajitas but don't want to leave your jammies or maybe you are on a Whole30 and need a yummy dinner to satisfy, give this recipe a try.
Click the picture below to save to your Pinterest board.
Fajita Seasoning (this makes a big batch. Use as much as desired)
| | |
| --- | --- |
| Fajita Seasoning (this makes a big batch. Use as much as desired) | |
Preheat oven to 400°F. Cover a baking sheet with cooking spray. Mix the fajita seasoning together in a jar. This recipe makes a big batch, you will have extra.

Place chicken breast in between two pieces of parchment paper. Pound the chicken breast with a meat mallet until each breast is at an even thickness, aim for ½ inch thick. Sprinkle each side of the chicken breast with the Fajita Seasoning.

Peel the avocado and add the green part to a mixing bowl along with the garlic powder and ½ lime juiced. MIx together until combined.

Slice the bell pepper and onions in long large slices.

Place a spoonful of smashed avocado in the middle of the flattened chicken breast. Arrange the the peppers and onions on top of the avocado and start rolling up. Secure each breast with a toothpick or skewer.

Sprinkle the top of the chicken with more fajita seasoning.

Add the rolled up chicken breast to the baking sheet and pop in the oven.

Bake for 25 minutes or until desired doneness.

Serve with my fresh Cilantro Salsa. See notes for a link.
Tags : chicken fajita, paleo, roll ups, whole30