Portobello Mushroom Burger & Rosemary Sweet Potato Fries
Published Aug 05, 2017 Updated Jul 11, 2023
This post may contain affiliate links. Please read our disclosure policy.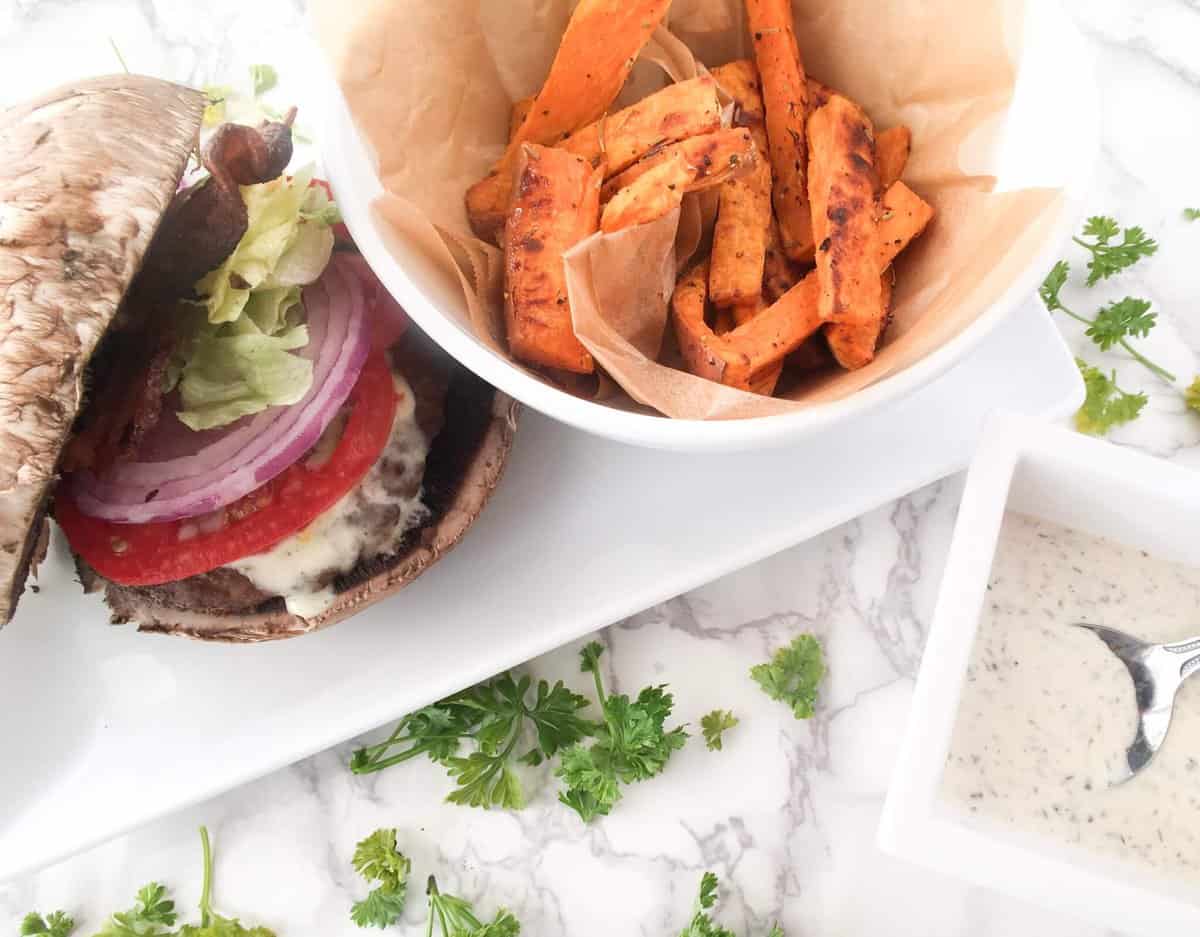 I have been craving a burger and fries ALL week. Anytime I am on a round of  Whole 30, I usually don't crave much of anything, but this week has been different. This recipe just shows that you can calm your cravings by substituting a satisfying meal that doesn't skimp on flavor. This burger is almost like eating the real thing, juicy, thick and delicious….then throw the sweet potato fries dipped in approved ranch dressing in the mix, you are set!
When stress comes in my life, I am one to not eat a thing at all or eat ALL things I come in contact with, it's one or the other. Comfort food calms me and makes me happy and this mushroom bun burger serves just as that, comfort food that leaves me feeling satisfied without all the guilt.
Y'all, this meal is Whole 30 approved and taste majestic….WARNING, you may turn into a "unicorn" after consuming. Seriously though, it's like combining healthiness and awesomeness all in one yummy burger/meal. Here is how it goes down, 2 large portobello mushrooms (cooked or raw, your choice) covered in Whole 30 approved mayo (use Tessemae's brand or make your own) along with mustard, tomatoes, red onions, lettuce and pickles,  topped with a grass fed burger patty and BACON. Are you drooling yet?
All you Whole 30 and Paleo humans, go do yourself and your family a favor and make this for dinner tonight. Shoot, even if you are a human who eats junk food all the time, that's okay, you will dig this meal too.
Get the recipe below. Happy eating little sweet peaches!

Portabella Mushroom Burger & Rosemary Sweet Potato Fries
Craving junk food but don't want all the calories? Try these portobello mushroom bun burgers that will leave you feeling like a majestic unicorn!
Ingredients
Burger Patty
2

patties ground beef

grass fed

2

slices

bacon

applegate

2

tbsp

coconut aminos

1

tsp

cracked pepper

1

tsp

garlic powder
Rosemary Sweet Potato Fries
1

medium sweet potatos

thinly sliced

1

tbsp

rosemary

dried

1

tbsp

cracked pepper

1

tsp

Garlic salt

2

tbsp

olive oil
Mushroom Bun
2

portobello mushrooms

cleaned

1

tsp

olive oil
Instructions
Sweet Potato Fries
Preheat your oven to 400 degrees Fahrenheit. While the oven is heating, cover a baking sheet with parchment paper.

Clean your sweet potatoes and slice into 1/4" fries

Add all your spices to a large mixing bowl and throw in your sweet potato fried and cover with olive oil.

Mix together until all fries are covered with the oil and spices. Start lining your baking sheet with the fries, leave a little space between each.

Bake on 400 degrees, turning them as needed for 30 mins. You can cook longer if you like yours more crispy. This is based on your preference.
Burger Patty
Heat skillet on medium/high heat.

Pat out burger patties and cover with spices and coconut aminos (make sure each side is evenly covered). Also get your bacon ready, you are going to throw it in with your burgers. (or you can cook in oven or microwave, your choice).

Cook patties 4 minutes on each side (or until desired degree of doneness).
Mushroom Bun
Cover tops of mushrooms with a little olive oil (The mushroom bun can be served raw or cooked (whatever your preference)

Bake in oven or throw on grill for 2-3 minutes on each side.
Full Meal
Lay mushroom buns facing up and start dressing the bottom bun with approved mayo, red onions, tomatoes, pickles, and butter lettuce

Add your grass fed patties along with your bacon and place the other mushroom bun on top.

Serve with your sweet potato fries along with approved ranch for dipping.
Nutrition information is automatically calculated, so should only be used as an approximation.