30 Minute Grilled Peach Steak Salad
Published Jul 15, 2018 Updated Jul 11, 2023
This post may contain affiliate links. Please read our disclosure policy.
If you don't already know by my blog name (Healthy Little Peach), I am obsessed with peaches. I not only call all my friends "Peaches" but I love eating them. This Grilled Peach Steak Salad is absolutely perfect for summer. It is so fresh and light and the peaches gives it a sweetness that pairs perfectly with the savory bacon and flank steak. It is also Whole30, Paleo and Gluten Free compliant.
In addition, my peach vinaigrette dressing is my new favorite EVERYTHING. I told my husband he better keep a eye on me because he may catch me in the kitchen drinking it. Yeah ya'll, its that flipping good.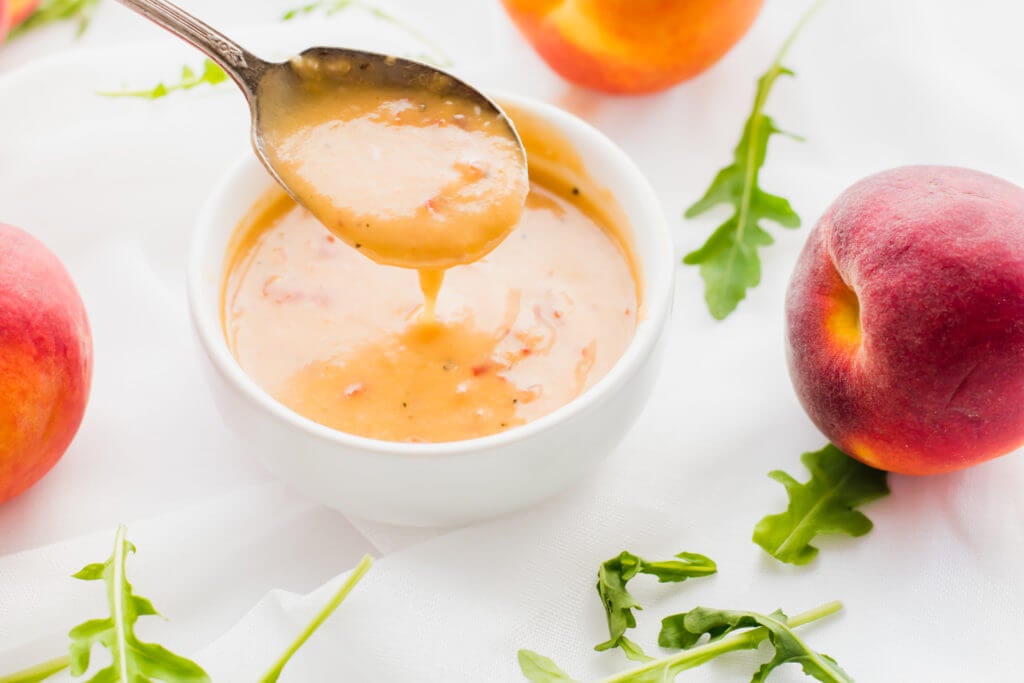 Sweet and savory meals are so delightful, especially in the summer when there are so many seasonal veggie and fruit options available. Peaches are in season in the summer so I try to incorporate them in my dishes as much as possible in the summer months. I use them a lot in desserts, but I am a big fan of them grilled and thrown on top of a salad such as this simple Grilled Peach Steak Salad. You wouldn't think grilling them would change the taste that much, but it brings out even more flavor. The grill will caramelize them and makes them even sweeter.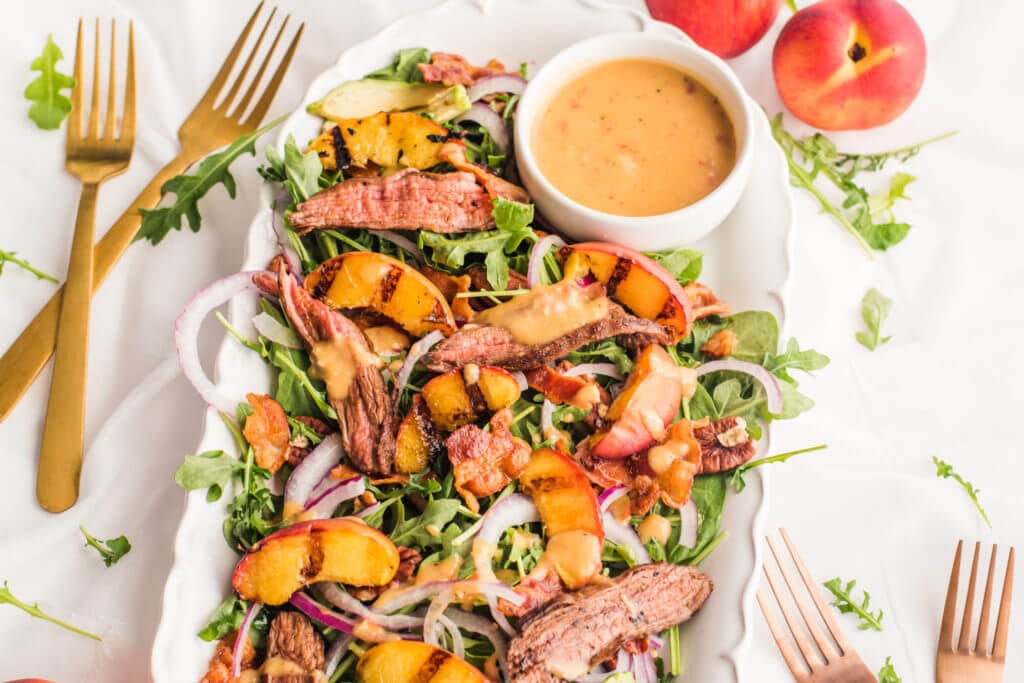 To build this beautiful summer salad, I use crisp arugula, fresh red onions, pecans, crispy bacon and avocados. I try to keep the ingredients pretty simple because adding too much can take away from the salad instead of actually adding to it. The Peach Vinaigrette is the show stopper in this dish though, it adds a crazy amount of flavor.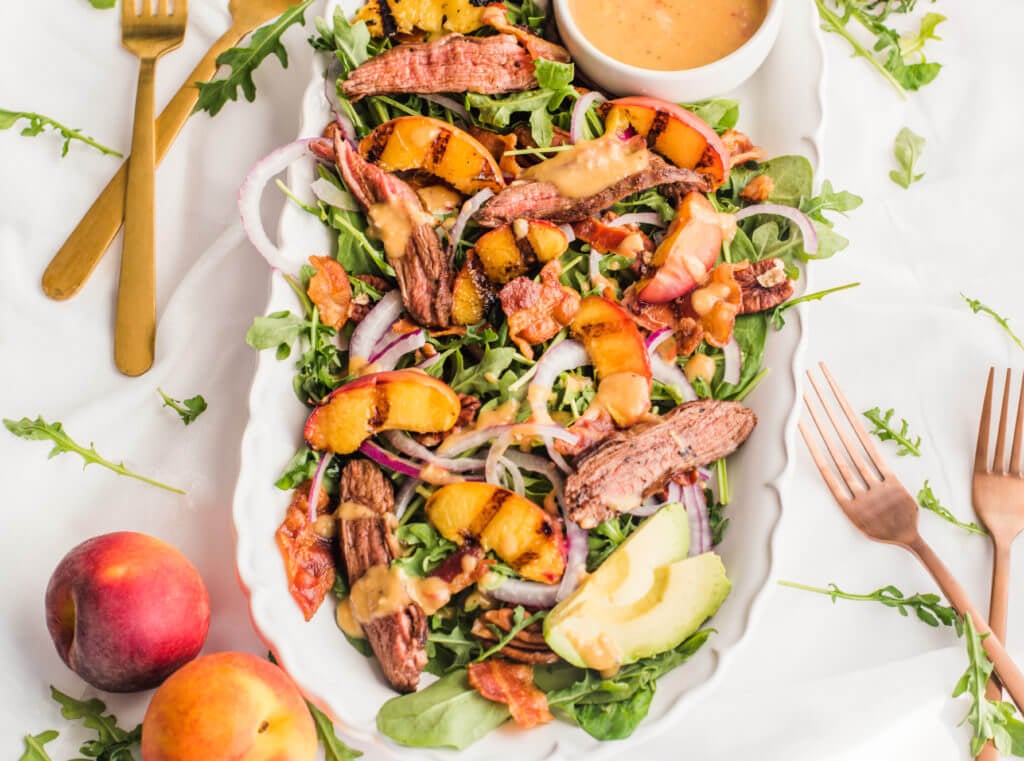 The peach in the dressing gives it the right amount of sweetness without making it too overpowering and the coconut aminos gives it a beautiful balance. It is the perfect savory and sweet dressing that would be good on any salad, protein or veggies. If you bought peaches at your local farmer's market and are needing a yummy recipe, give this tasty summer salad and dressing a try.
How long does this Peach Vinaigrette lasts in the fridge?
If I have extra of this dressing or if I whip up some on Sunday meal prep, I will store in a glass Weck Jar for about a week. It's always important to
What kind of steak is best to use on this Grilled Peach Steak Salad?
For this Grilled Peach Steak Salad, I used flank steak and it turned out so tender. Although this is the specific cut I used for this recipe, you can also use a sirloin or skirt steak. These are all really clean cuts with minimal fat and slice very nicely to add to a salad.
Click below to save to your Pinterest board.
Shop my post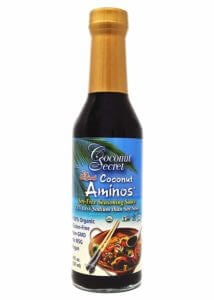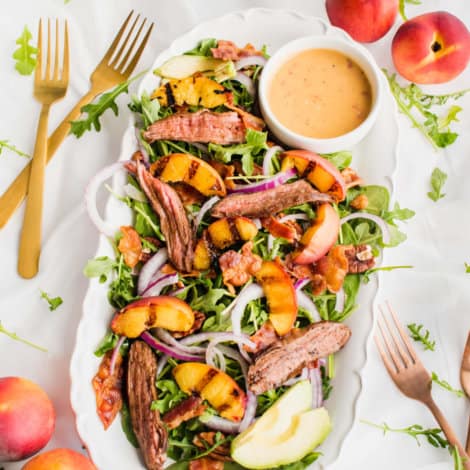 Grilled Peach Steak Salad
This Grilled Peach Steaks salad is savory and sweet. It is filled with crisp arugula, grilled peaches, flank steak, bacon and drizzled peach vinaigrette that is perfect for summer. This dish is Whole30 and Paleo compliant.
Ingredients
Saalad
1

lb

Flank Steak

cooked and thinly sliced

2

peaches

,sliced

2

slices

of bacon

,crumbled

3

large red onions

,sliced, torn apart

3

tbsp

pecans

1

avocado

, pitted and sliced

1/2

cup

coconut aminos

1

tsp

salt

1

tsp

pepper

1

tsp

garlic powder

4

cups

fresh spinach and arugula mix
Peach Vinaigrette
1

large Peach

2

garlic cloves

1/4

cup

light olive oil

4

tbsp

white wine vinegar

1

tsp

salt

1

tsp

pepper

1

tbsp

Dijon Mustard

( I like Annies)

1

tbsp

coconut aminos
Instructions
In a large ziplock bag, add 1 flank steak. In a small bowl add ½ cup coconut aminos, 1 tsp salt, 1 tsp pepper, and 1 tsp garlic. Mix together with a fork until combined. Pour the marinade into the bag with the flank steak. Let this bag marinate in the refrigerator overnight for best taste.

Get the grill ready by coating with a little bit of cooking spray and turn on to 425°F

Remove the flank steak from the fridge and let sit for about 10 minutes before cooking.

While the grill is heating and the flank steak is resting to room temperature, slice the peaches, onions and avocados and sit to the side.

To make the dressing, add the peach removing the pit, 2 garlic cloves, light olive oil, white wine vinegar, salt, pepper, Dijon mustard, and the coconut aminos to a food processor or blender. Blend until creamy.

Remove the flank steak from the marinade and add to the grill. In addition, add the 2 slices of compliant bacon on top of aluminum foil along with the peach slices to the grill.

Cook the flank steak 7-8 minutes on each side for medium (slightly pink). Remove the bacon from the grill after 8-10 minutes and remove the peaches once they have nice grill marks.

Transfer the flank steak to a cutting board and let rest for 10 minutes covered with aluminum foil.

Start building the salad. Add the arugula mix to a serving platter then add the onions, pecans, crumbled bacon, avocados, grilled peaches and drizzle with the peach vinaigrette.
Nutrition information is automatically calculated, so should only be used as an approximation.