This post contains affiliate links
Whole30 + Paleo + Keto Curry Chicken Salad
Anytime I cook with curry, it always makes me feel like my grandmother Sue Sue is cooking right next to me. She loved cooking with curry and anytime I smell or taste it, I'm taken back to special time. Truth is, I can eat chicken salad anytime and anywhere. I have been known to eat it once a week for breakfast. Yes…I love it that much.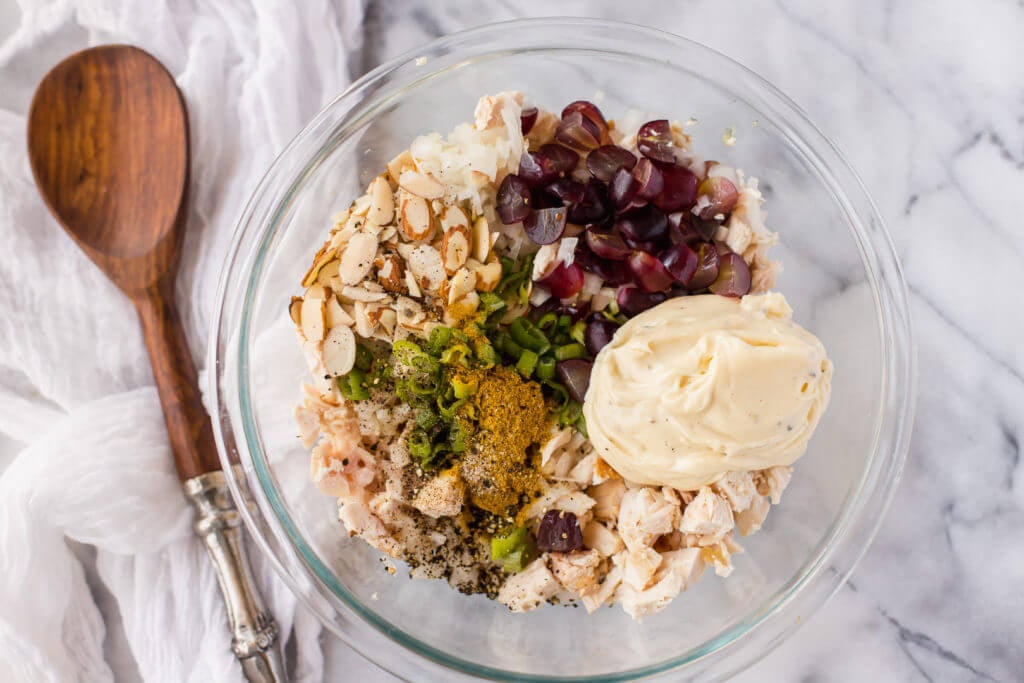 What to serve with chicken salad?
I love adding chicken salad on top of butter lettuce or even throwing on a big veggie-heavy salad. I love chicken salad so much that I will put it in a bowl and eat it for breakfast. It is also tasty on Gluten-Free bread or tortilla and heated up in a skillet and serve with a side of fruit or fresh cut veggies. Now, if you really want to be fancy, stuff this chicken salad into an avocado. It will blow your mind simple yet flavorful it is.
How long does chicken salad last in the fridge?
I will usually only keep my chicken salad in the fridge for 4-5 days. Below is the correct way to maximize the shelf life of chicken salad.
Make sure to refrigerate chicken salad within two hours of preparing or purchasing.
Refrigerate using airtight containers. Click here for the ones I recommend.
If it smells funny, ALWAYS throw it out.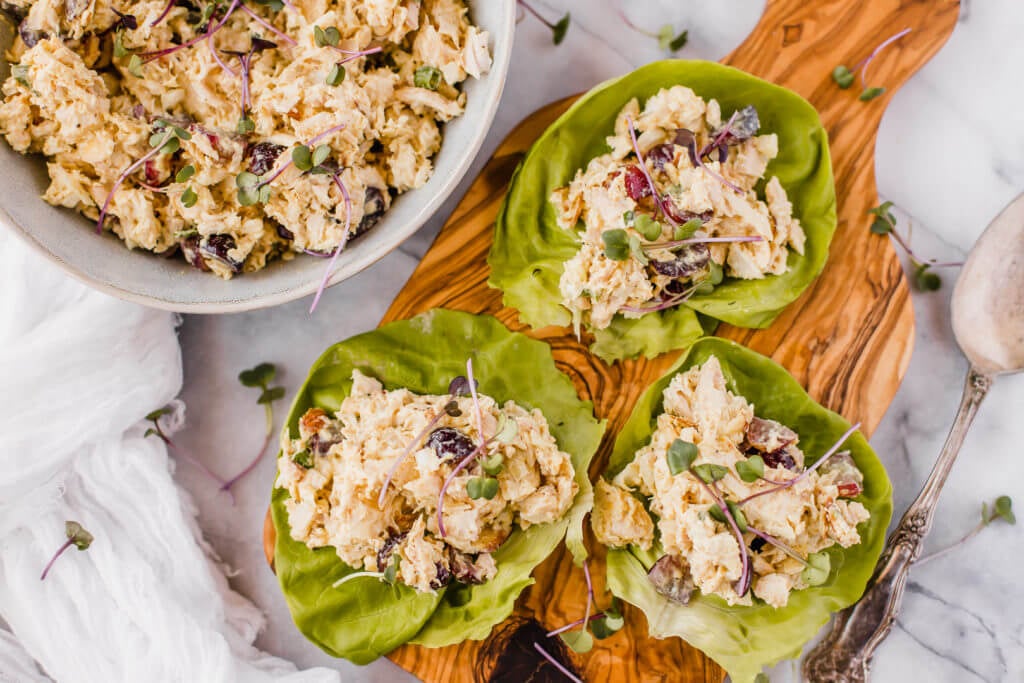 Can I use canned chicken?
Yes, for sure. I like the taste of fresh chicken, but if you are busy and need a quick option, canned chicken will work great. Be sure to always check and make sure there are no sneaky ingredients. In addition to canned chicken, you can also grab a rotisserie chicken that will make Sunday meal prep super easy.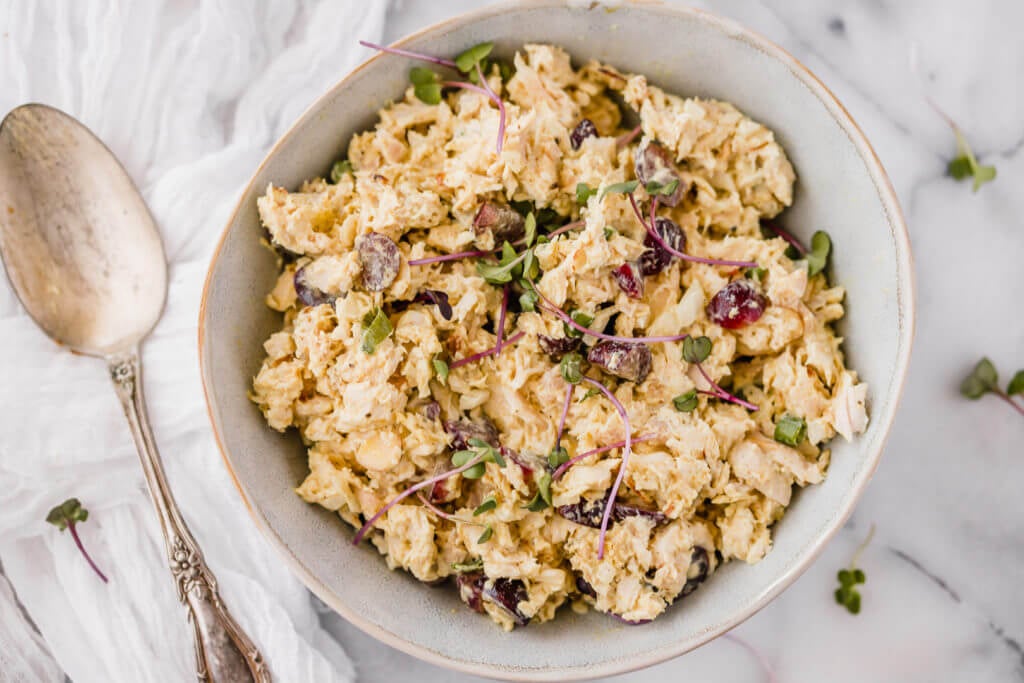 Don't forget to pin to your Pinterest

Shop my Post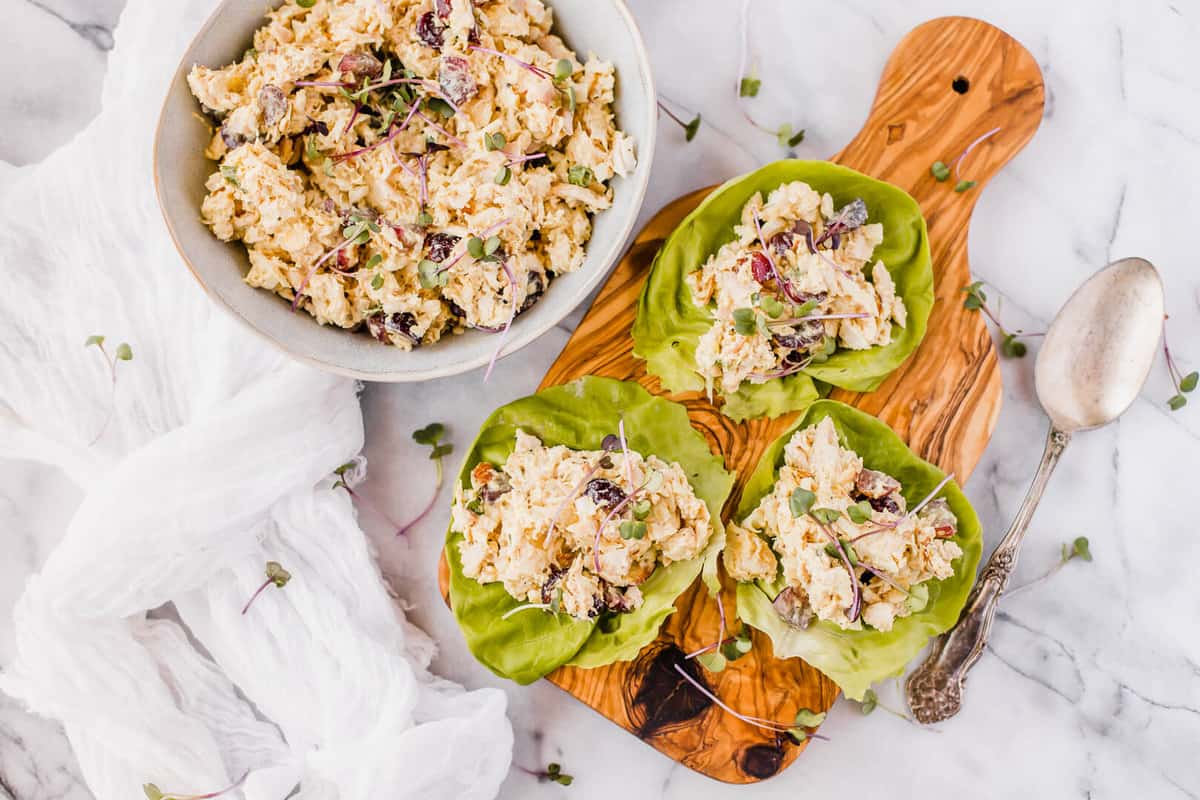 Curry Chicken Salad
Total Time:

10 minutes

Yield:

3.5 Cups

1

x
Curry Chicken Salad
3 1/2 cups

cooked diced chicken

1/2 cup

sliced grapes

1/2 cup

diced onions

3 tbsp

green onions

1/2 tsp

salt

1/2 tsp

pepper

2 tsp

curry powder

3/4 cup

mayo

1/2 tsp

lemon juice
micro greens or radish shoots for garnish
Homemade Mayo
1 cup

light olive oil

1/2 tsp

ground mustard

1/2 tsp

lemon juice

1/2

tsp salt

1

large egg
Instructions
Cook your chicken as desired. Boil, grill, bake or use a compliant rotisserie chicken. Rough chop the chicken, grapes, onions. Add to a mixing bowl.
Place the mixing bowl to the side and make the homemade Mayo.
For the mayo, add 1 cup of light olive oil, 1 egg, 1/2 teaspoon mustard powder, 1/2 teaspoon salt, 1/2 tsp lemon juice into a wide mouth mason jar. Use the immersion blender to mix together until thick and creamy. If you don't have an immersion blender add everything to a blender except the olive oil and turn on to slow/medium speed and slowly add the olive oil until thick and creamy.
Add 3/4 cup of mayo the chicken mixture and mix together with a spoon until combined.
Add a spoonful of the chicken salad into a (washed) butter lettuce cups and sprinkle with radish shoots or micro greens.
Author:

Ashley McCrary

Prep Time:

5 minutes

Cook Time:

5 minutes

Category:

Appetizer, Main Dish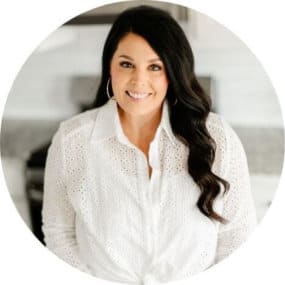 About Me
Welcome to Healthy Little Peach. I'm Mac, the lady behind the recipes. I believe in living a healthy lifestyle that consists of a mix of healthy whole foods, and full-fat comfort meals. Life is too short not to enjoy good food while maintaining a healthy body and mind. Here you will find gluten-free, dairy-free, paleo, keto, and even full-fat comfort recipes. Let's have fun in the kitchen together!