Air Fryer Crispy Chili Lime Chicken Tenders (Whole30 + Keto)
Published Mar 15, 2019 Updated Jul 11, 2023
This post may contain affiliate links. Please read our disclosure policy.
I love making a meal that the whole family loves, including my 4-year-old. I will put these Chili Lime Chicken Tenders on the menu at least once a week along with serving at family gatherings and parties. These are the perfect quick and comforting dinner that will please everyone at the table. They are Keto, Paleo, Whole30 and gluten free.
What's the key to getting these Chili Lime Chicken Tenders crispy in the air fryer?
The key to getting a nice crisp on the chicken tenders is,
Spray the chicken tenders with olive oil cooking spray.
Make sure there is room between each tender. (This is crucial for getting a good crisp)
Shaking the basket ever 10 minutes to make sure they are cooking evenly.
Increasing the temperature the last 5 minutes.
Is an air fryer a must-have kitchen gadget?
I can't say YES enough for this question. My air fryer is on the top of my list, even above the Instant Pot. I love it because it cooks anything quickly and evenly. In addition, I love how crispy things get without frying in oil.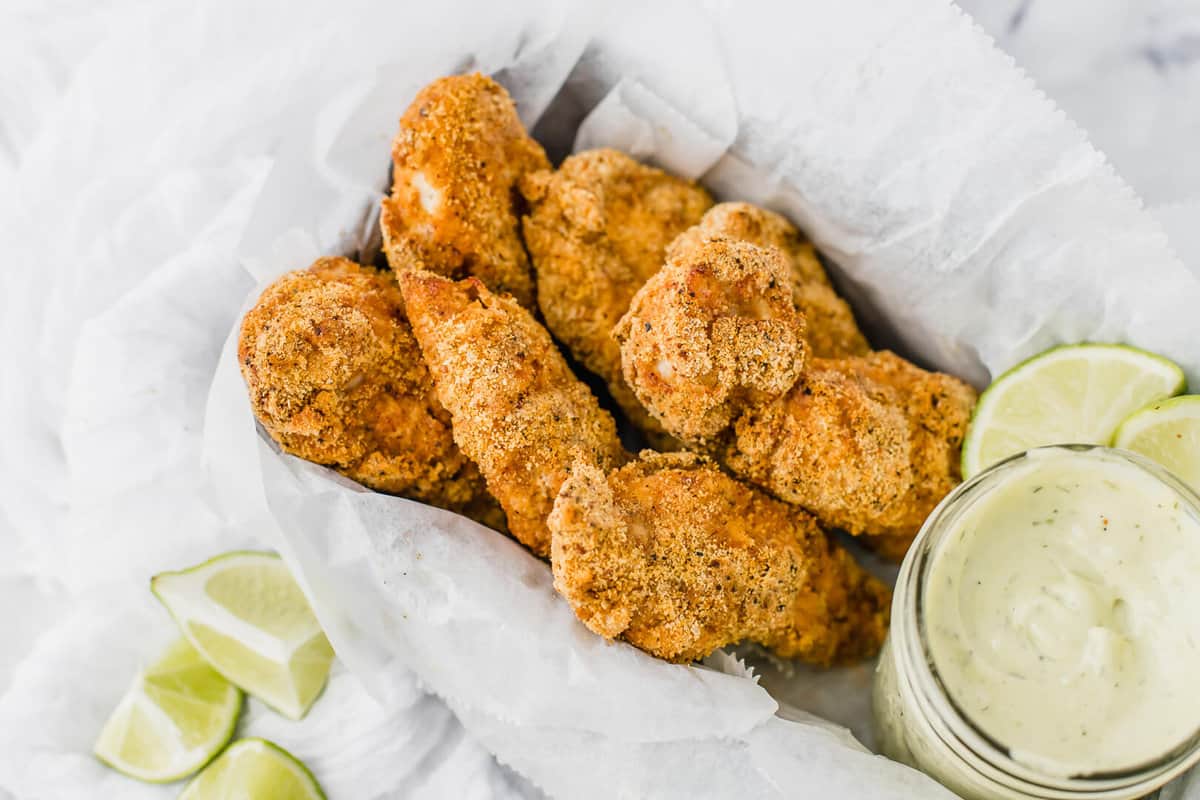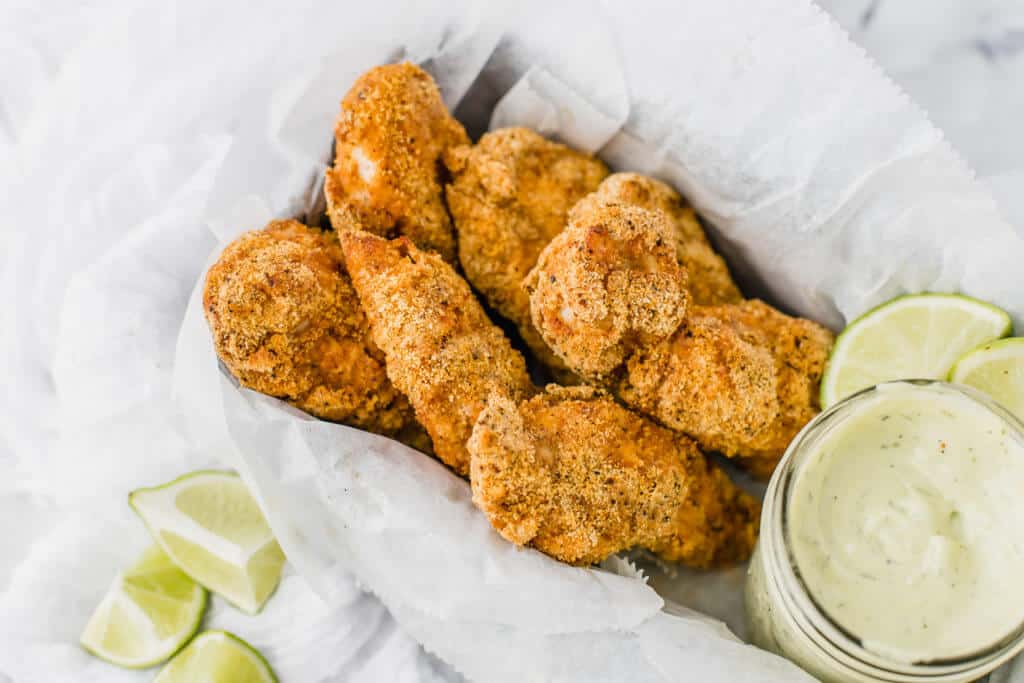 Can I make these Chili Lime Chicken Tenders in the oven instead of the air fryer?
Yes, I have added the oven method below in the instructions. I find that it gets more crispy in the air fryer but you can get a good crispy from the oven also.
What is Tajin and where can I buy it?
Tajin is a great seasoning that adds so much flavor. You can find this seasoning in the ethnic food section in Walmart (It is used in a lot of authentic Mexican dishes). You can also grab this here off Amazon. I also add this to fruit and it really makes it explode with flavor. It is best on pineapple and watermelon.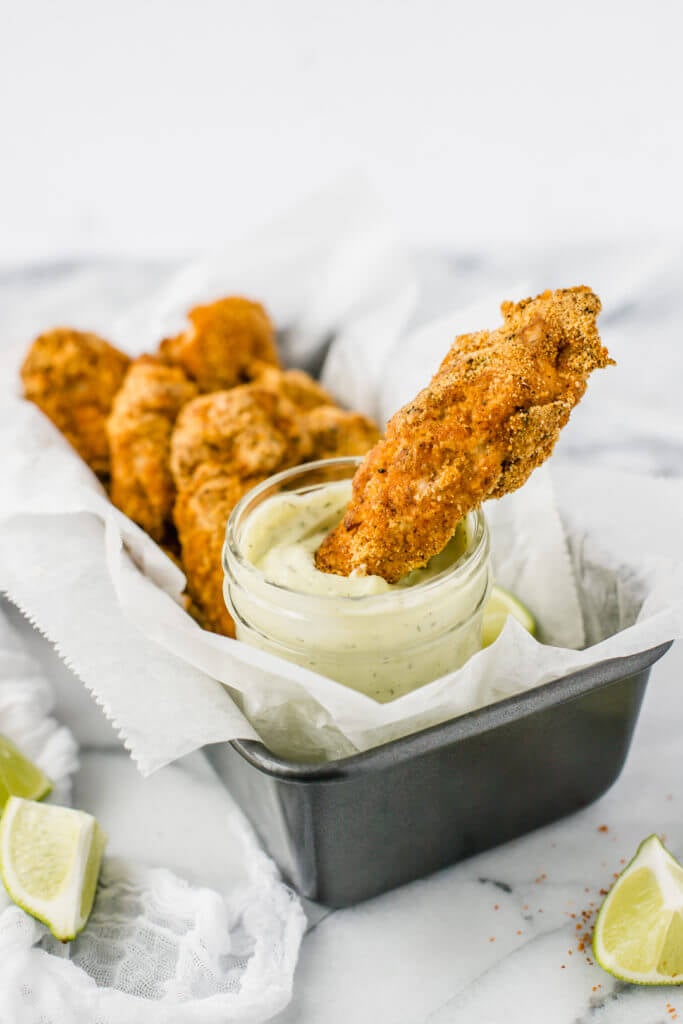 How long does the Avocado Ranch stay good in the fridge?
For my Avocado Ranch I suggest using the same day. I have found if I leave it in the fridge overnight, it will become brown and have a weird taste. For maximum taste and texture, use within one day.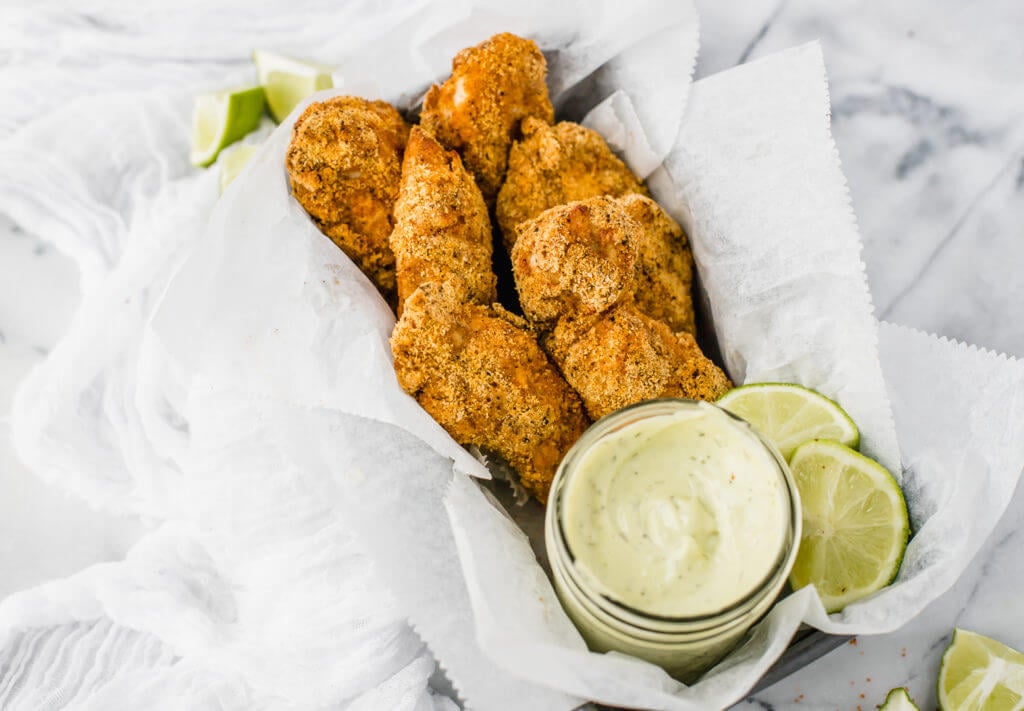 Can you freeze these Chili Lime Chicken Tenders after they are cooked?
Yes. These are great to make ahead in a big batch and freeze in a freezer proof container. Anytime I make these I will make a double batch and freeze for easy grab and go meals on a busy weeknight. It takes no time at all to throw in the oven or air fryer to heat up.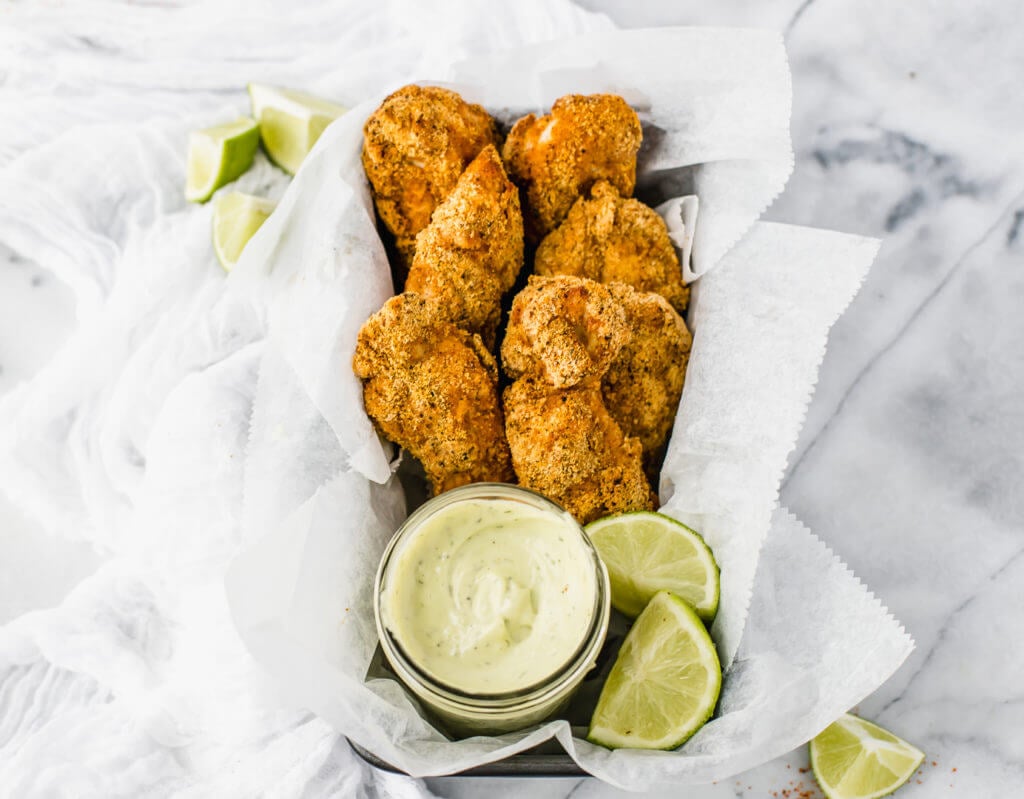 How can you serve these Chili Lime Chicken Tenders for the whole family?
I always make one meal and serve it in a different way for my 4 year old. My number one rule is that I will only cook one meal and not 2 separate meals for my kids. I love recreating my recipes/meals in a kid friendly way. Here is an example of how I serve these tenders in a way in which the whole family enjoys.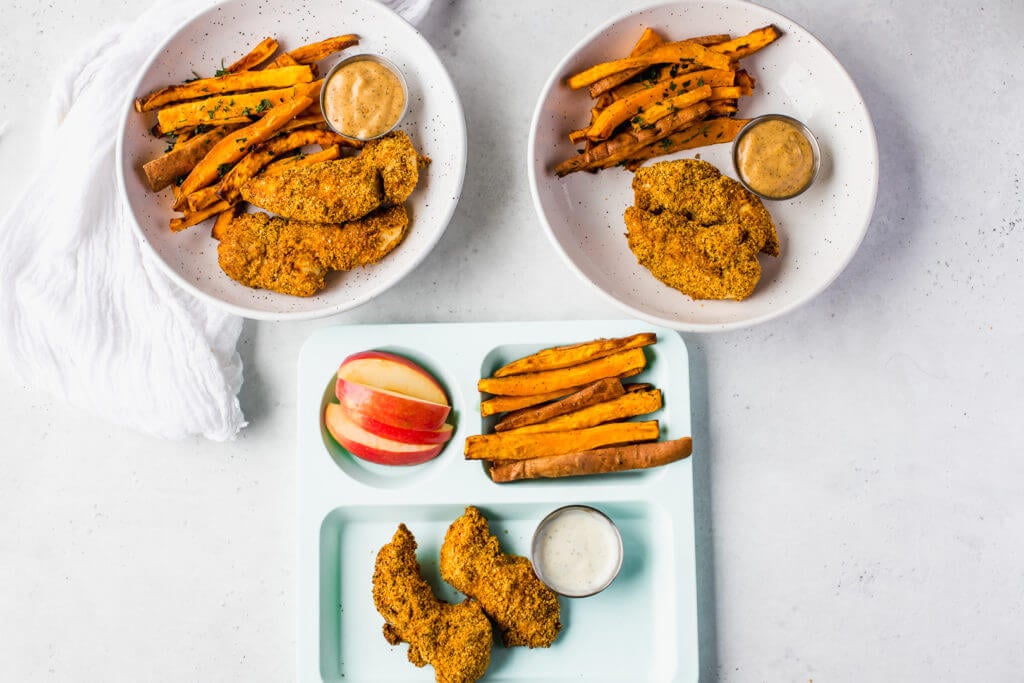 How are these Chili Lime Chicken Tenders not considered SWYPO on Whole30?
This recipe is absolutely Whole30, Keto and Paleo compliant. As long as you aren't eating these tenders to satisfy an emotional craving or need, then you are good to go. If this type of meal sparks unhealthy behaviors or thinking patterns, then I suggest not eating them on a Whole30.
I don't have an emotional attachment to crispy tenders and can eat the recommended serving size and be content. If these are a trigger for you, then make the choice to steer clear for the duration of your Whole30. Be self aware and make an adult decision based on your needs.
According to Melissa Urban
"In addition, context matters. For example, the amazing fried chicken in Paleo Comfort Foods is a perfectly appropriate (and delicious) dinner choice while on your Whole30. However, if you're coming off a wicked addiction to KFC, perhaps this creation isn't the best choice for you during your program. Make sense?" Read more about SWYPO here
This Avocado Ranch is so amazing to have in the fridge for an easy condiment that will add flavor to protein, veggies and even for dipping.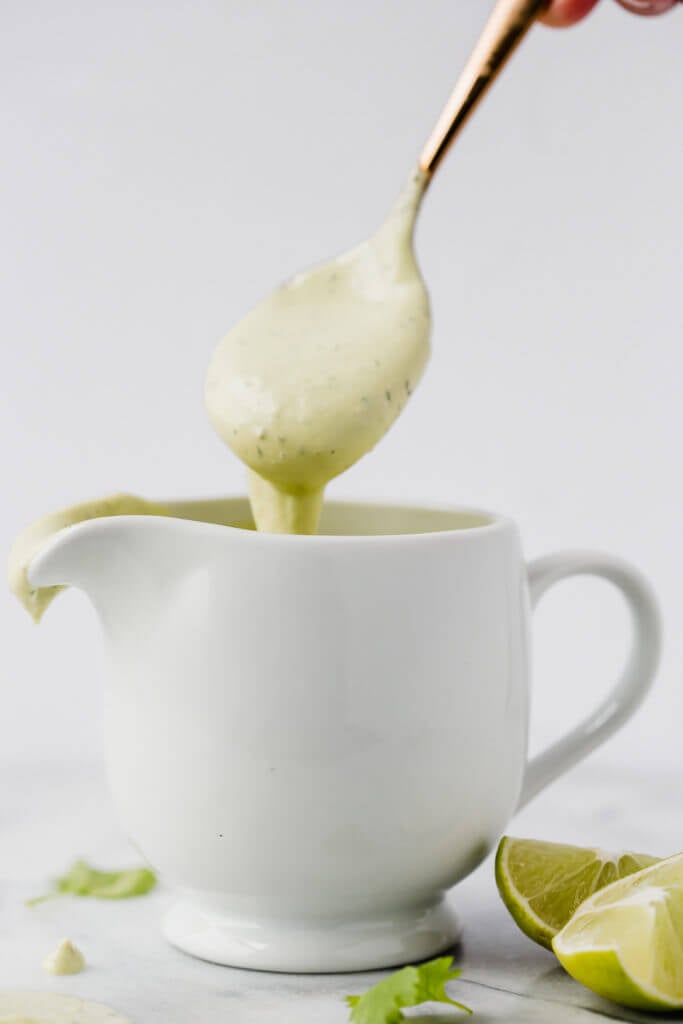 Shop My Post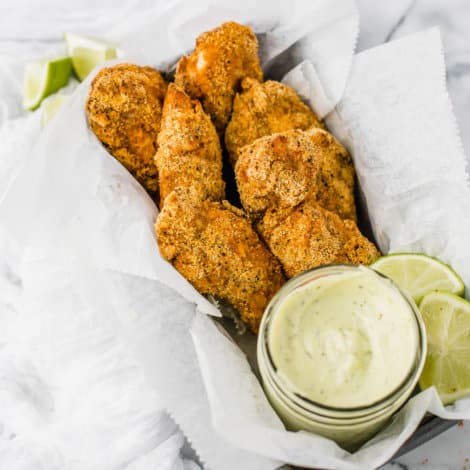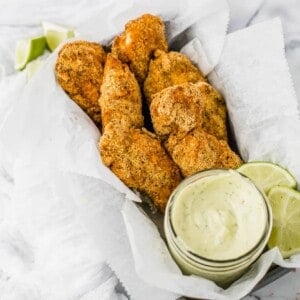 Chili Lime Crispy Chicken Tenders
A crispy Chili Lime Air Fryer Chicken Tenders dipped in Avocado Ranch that is family approved and yummy. This recipe is Whole30, Paleo, Keto, and Gluten-Free.
Ingredients
Chicken Tenders
8

chicken tenderloins

1

cup

almond flour

2

large eggs

1/2

Lime

juiced

1

tbsp

Tajin Seasoning

1/2

tsp

salt

more to taste if needed

1/2

tsp

pepper

1 1/2

tsp

chili powder
Avocado Ranch
1

cup

homemade mayo

1

avocado

pitted

1

tsp

salt

2

tsp

dill weed

1

tsp

apple cider vinegar

1

tsp

white wine vinegar

2

tbsp.

canned coconut milk

1

tbsp

dried parsley

1

tbsp

dried chives

1/2

tsp

onion powder

1

tsp

garlic powder

1

tsp

cracked black pepper
Instructions
Air Fryer Method
Preheat air fryer to 370º F.

Mix the almond flour along with all the chili powder, Tajin, salt, and pepper in medium size bowl. In another bowl, add 2 large eggs and 1/2 lime, juiced and whisk together.

Coat each chicken tender in the egg mixture, followed by rolling in the almond flour mixture, and place on a plate.

Spray the air fryer basket with nonstick cooking spray or olive oil spray. Place the chicken tenders in the air fryer basket. Make sure the tenders are not touching, air will need to flow between them as they cook. You will be cooking in 2 separate batches

Spray a little of the cooking spray on top of each tender and turn the timer on for 12 minutes. Halfway through, pause cooking and flip the tenders and spray the other side with cooking spray and finish cooking. Cook until golden brown or until the internal temperature reads 175°F. Repeat this step until all tenders are cooked.

Remove from the air fryer and serve with the Avocado Ranch dressing.
Oven Method
Preheat the oven to 450 degrees F. Line a baking sheet with parchment paper.

Mix the almond flour along with all the chili powder, Tajin, salt, and pepper in medium size bowl. In another bowl, add 2 large eggs and 1/2 lime, juiced and whisk together. Coat each chicken tender in the egg mixture, followed by rolling in the almond flour mixture, and place on a baking sheet.

Bake for 12 minutes, then flip, and bake for another 12 minutes until golden brown. Remove from the oven and serve with Avocado Ranch.
Avocado Ranch
Take 1 cup of compliant mayo and add it to a wide mouth mason jar and use your immersion blender to mix together until thick and creamy. 

Serve immediately or store in the fridge for up to one day. 
Notes
Feel free to use fresh or dried herbs.
Click here for my 60 second Whole30 Mayo
The Avocado Ranch will only last a day or so due to the nature of the avocado browning. 
Nutrition is calculated for 2 tenders only. 6 NET carbs
Nutrition
Serving:
2
chicken tenders
|
Calories:
340
kcal
|
Carbohydrates:
8
g
|
Protein:
33
g
|
Fat:
10
g
|
Cholesterol:
175
mg
|
Sodium:
2151
mg
|
Fiber:
2
g
Nutrition information is automatically calculated, so should only be used as an approximation.
Don't forget to save these Chili Lime Chicken Tenders recipe to your Pinterest board. Click the photo below.