BBQ Sheet Pan
Published Mar 09, 2018 Updated Nov 15, 2019
This post may contain affiliate links. Please read our disclosure policy.
Running around like a chicken with my head cut off is the story of my life now days. It seems like life gets busier every single day and sometimes it is so hard to get in the kitchen and make a beautiful and delicious meal. This BBQ platter continues to save my life and my family requests an looks forward to it every single week. Not only is it easy peasy to throw together, but it is Whole30, Paleo and Keto complaint.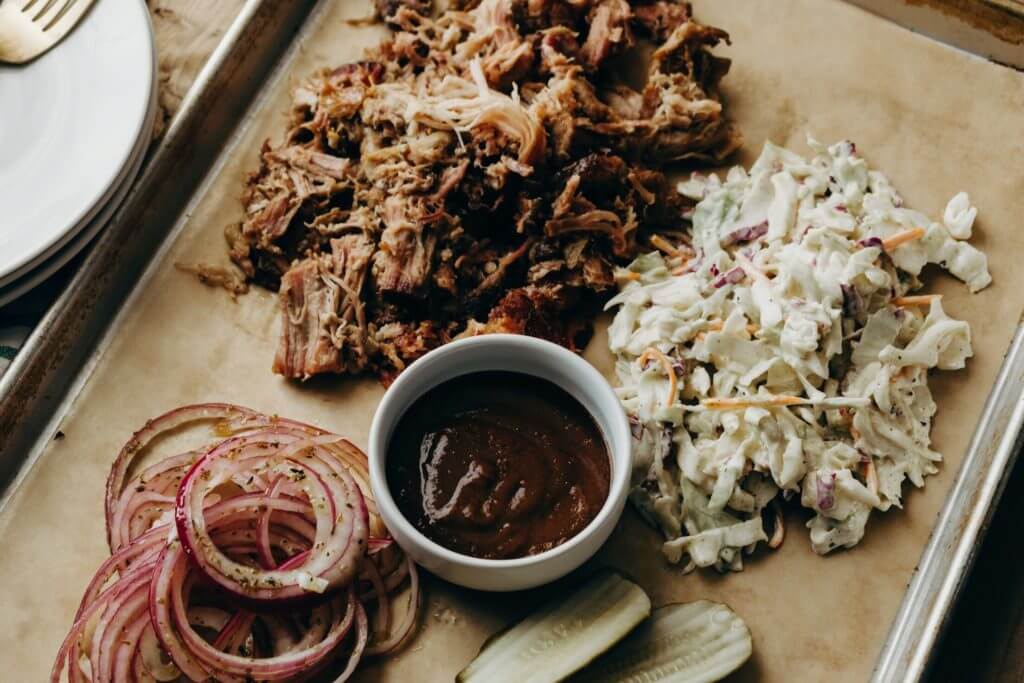 I shop at Sam's Club on a weekly basis and about 6 months ago I found their pre-cooked Member's Mark Shredded Pulled Pork that heats up in no time and taste just like it came off the grill. It is by far by favorite product to buy right now and really saves me with putting a good dinner on the table.
I will whip up some of my famous Curry Coleslaw, marinated onions (thanks to Teri from over at No Crumbs Left), pickle spears and no sugar added BBQ sauce such as Tessemaes or The New Primal. I will grab some parchment paper and a sheet pan and throw everything on top and slap on the table. It is a fun way to serve the family that brings us all together.
If you are a busy gal like me, gives this recipe a try. I am sure this will become a weekly staple and your family will get so excited on BBQ platter night.
Click below to save to your Pinterest Board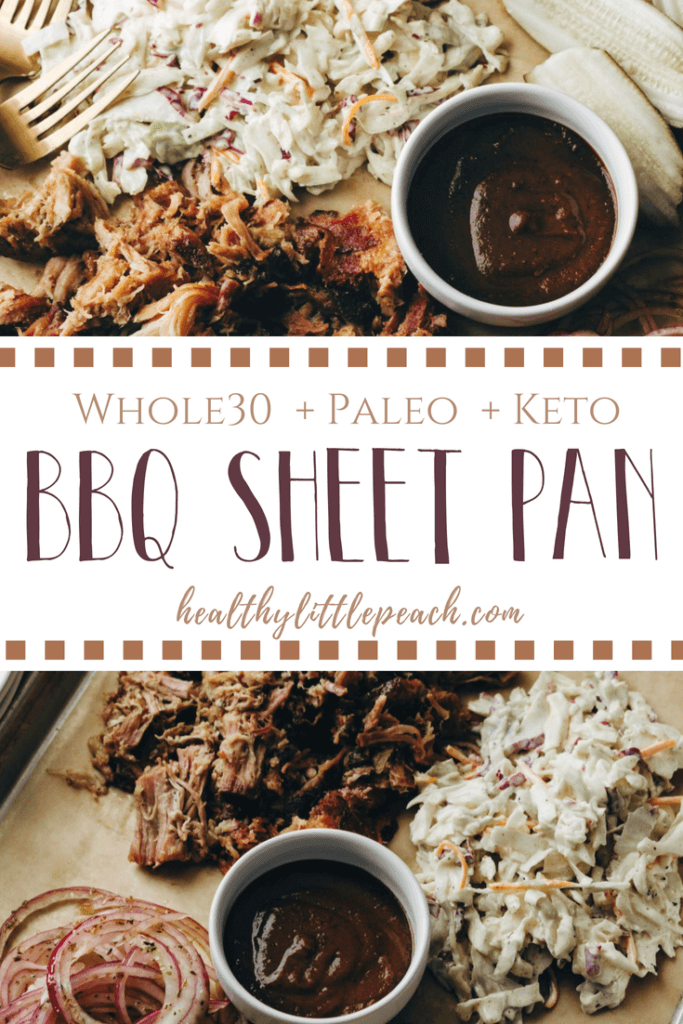 [wpurp-searchable-recipe]BBQ Platter Sheet Pan – Make weeknight meals super easy with this delicious BBQ platter that is Whole30, Paleo and Keto compliant. – BBQ Platter: Members Mark Pulled Pork (available at Sam's Club), No Crumbs Left marinated onions, compliant pickles (read your labels), BBQ Sauce (Tessemaes or The New Primal), No Crumbs Left Marinated Onions: red onion, olive oil, dried oregano, red wine vinegar, Curry Coleslaw: coleslaw mix, compliant mayo (see notes for recipe), curry powder, salt and pepper, splash of rice vinegar, , Coleslaw: Add your coleslaw to a large bowl. Mix in one half cup of compliant mayo (Whole30). If not Whole30, use mayo of choice. Add your curry powder salt, pepper and rice vinegar and mix together until combined.; Marinated Onions: This is coming directly fro No Crumbs left website. Thinly slice the red onion and place in a low bowl. In a separate bowl, stir the olive oil, red wine vinegar and dried oregano together to combine well. Pour the mixture over the onions, making sure they are submerged.
Let sit on counter at room temperature to marinate for at least an hour. Keeps for two days unrefrigerated.; Platter: Add parchement paper to a baking pan and start building the platter by adding the shredded pork, onions, pickles and BBQ sauce ; ; – My mayo recipe is the following:
1 cup of light olive oil, 1 egg, 1/2 teaspoon mustard powder, 1/2 teaspoon salt, 1/2 tsp lemon juice.Add all your ingredients to a mason jar and use your immersion blender to mix together until thick and creamy.
Thank you Teri from No Crumbs Left for allowing me to use your amazing marinated onion recipe. – Appetizer – Main Dish – Coleslaw – Platter – Paleo – Recipes – Whole30 – BBQ platter – BBQ Sheet Pan – coleslaw – paleo – whole30[/wpurp-searchable-recipe]
Print