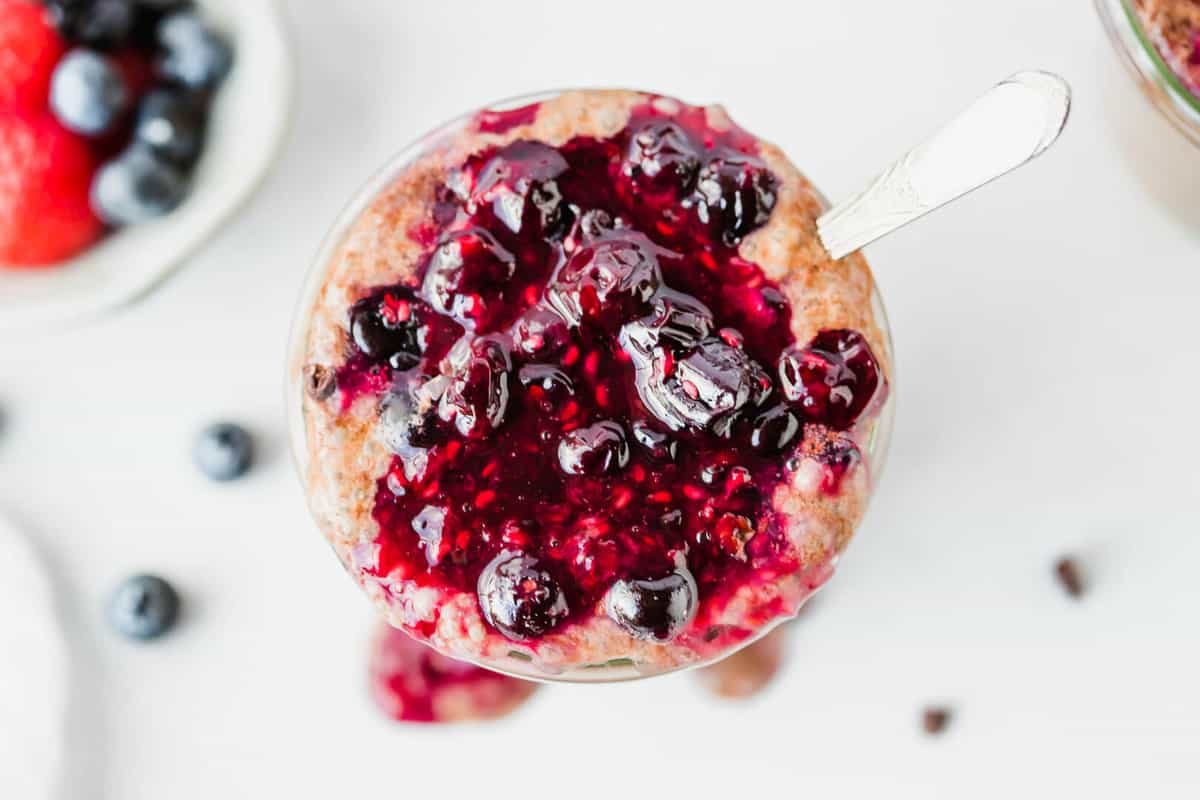 Paleo & Keto Chocolate Berry Chia Seed Pudding
A thick and creamy chocolate chia seed pudding topped with blueberry and raspberry compote and cacao nibs, Serves as a great Paleo and Keto breakfast, snack or dessert.
Sometimes I can't stand the thought of eating another egg for breakfast. This is when chia seed pudding comes to the rescue and saves the day for me. It helps break up the repetition of all things eggs and can even serve as a special treat. Not to mention, my 4-year old little girl loves it just as much as ice cream and will often ask for a cup of this pudding after a meal or for a snack.
What are the benefits of chia seeds?
Not only are chia seeds yummy to eat, but they also have a lot of nutrients that may support weight loss . Even though these seeds look little, there are full of protein, antioxidants, fiber, iron and omega-3 fatty acid. Additionally, it studies have shown that it could lower risk of heart disease, inflammation and even help reduce blood sugar and cholesterol levels.
Is chia seed pudding really healthy?
Depending on the ingredients you use, chia seed pudding can be a great addition to your diet. As long as you are not loading it down with a ton of sugar, then you are good to go. Chia seeds have a high amount of protein and a low carbohydrate count, so it's a great for people struggling with blood sugar levels. We live pretty much dairy free, so I use almond milk with my chia seeds and it keeps the calorie count minimal.
Is chia seed pudding Paleo, Keto and Whole30 compliant?
Chia seeds are great to add in Paleo, Keto and Whole30 cooking.
According to the Whole30 website, it states, "These "seeds" aren't the same botanical family of seeds that we eliminate with grains and legumes, so that makes them fine to eat during your Whole30. hia isn't likely to cause you any serious trouble, but it's not the omega-3 super-food it's made out to be, either. We explain why in It Starts With Food, but in summary, chia should be treated like any other nut and consumed in limited quantities." However, while completing a Whole30, it might be best to stir clear from making pudding with chia seeds because it's like recreating oatmeal or cereal. This can easily awaken your sugar dragon and bring on. 
Although chia seed pudding isn't recommended for Whole30, it's a great addition to your Keto and Paleo diet and lifestyle. When I get sick of eating eggs, I usually whip some of this pudding up the night before and it makes an easy grab and go breakfast option. Especially this recipe, it almost taste like a cobbler and can even serve as a tasty dessert!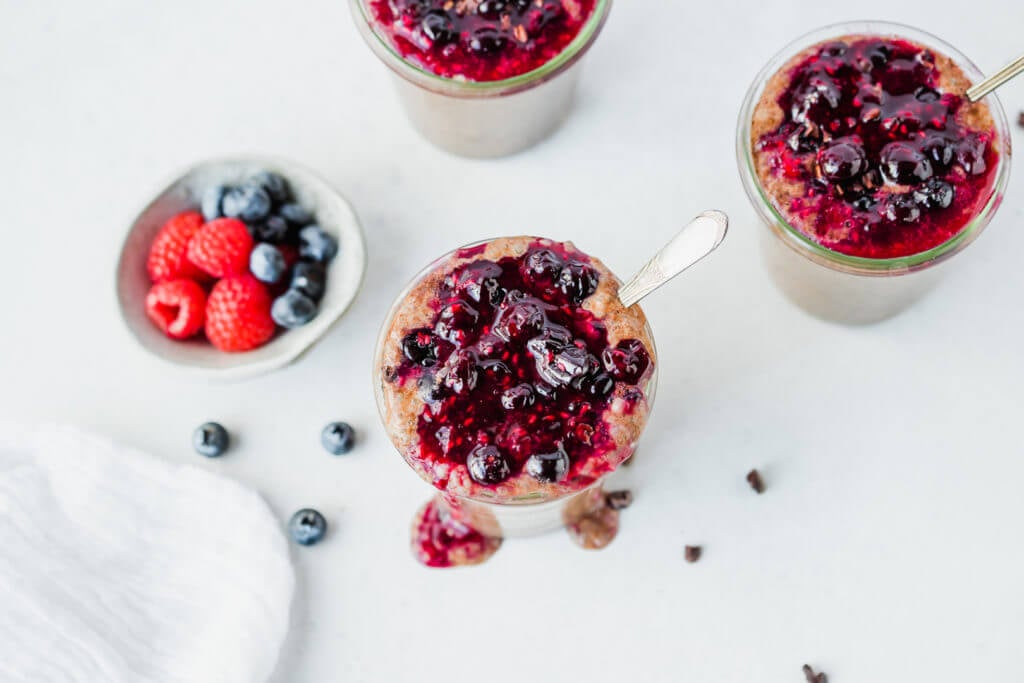 What do chia seeds taste like?
Chia seeds have a milkd nutty flavor and can be used in both sweet and savory dishes. When you add liquid to these seeds, they soak them up and they become soft and gel like. Some say that chia seeds look and taste a lot like a poppyseed.
Click bleow to add this recipe to your Pinterest board.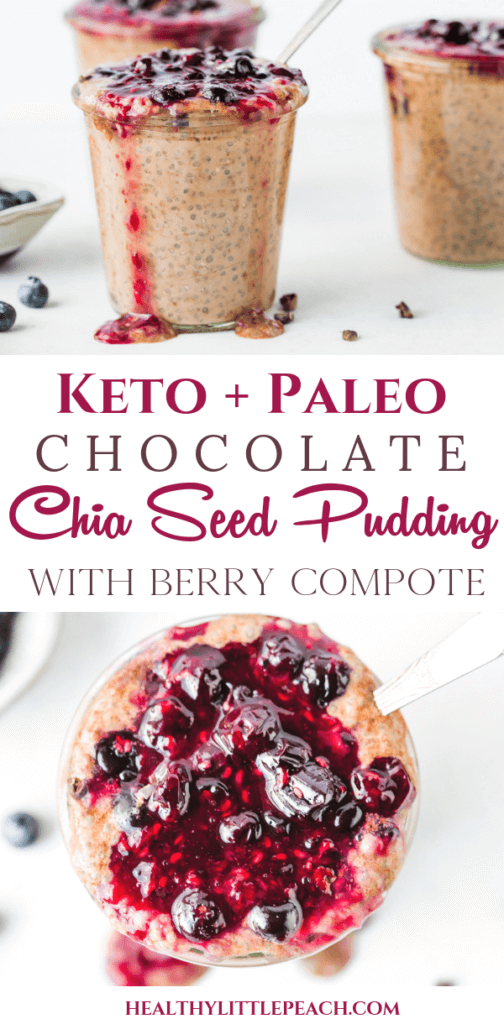 Shop my post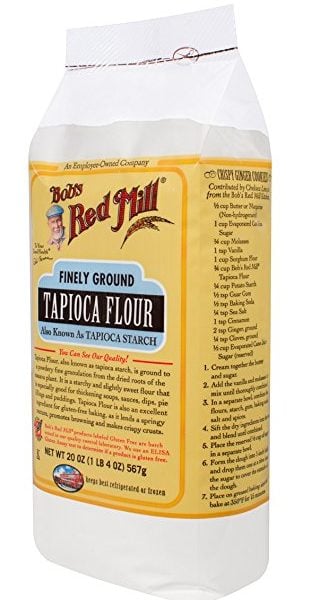 Chocolate Chia Seed Pudding
| | |
| --- | --- |
| Chocolate Chia Seed Pudding | |
Add the cocoa powder, monk fruit sweetener, salt, vanilla and unsweetened almond milk to a bowl. Add in the 1/2 cup chia seeds and mix together until combined and smooth. Allow to sit in the fridge overnight or at least 3 hours until the mixture becomes thick and creamy like pudding.

Top with berry compote and cacoa nibs.
Melt the ghee in a sauce pan over moderate heat. Add in the berries along with 1/4 cup water.

Stir in the Monk Fruit sweetener and lemon juice.

Cook over a medium/high heat for about 10 minutes until all the berries melt down.

Add the dissolved tapioca flour to the mixture and stir together.
Tags : breakfast, chia seed pudding, chia seeds, keto, keto breakfast, paleo