Bison has easily become my favorite go-to meat for dinners lately. It is lean and has a much richer taste than regular ground beef. These Whole30, Paleo and Clean Eating meatballs can serve as an easy weeknight dinner or a tasty appetizer to take to a party . Make sure to plan to roll a lot of meatballs, you won't want to stop eating these, they are that delicious.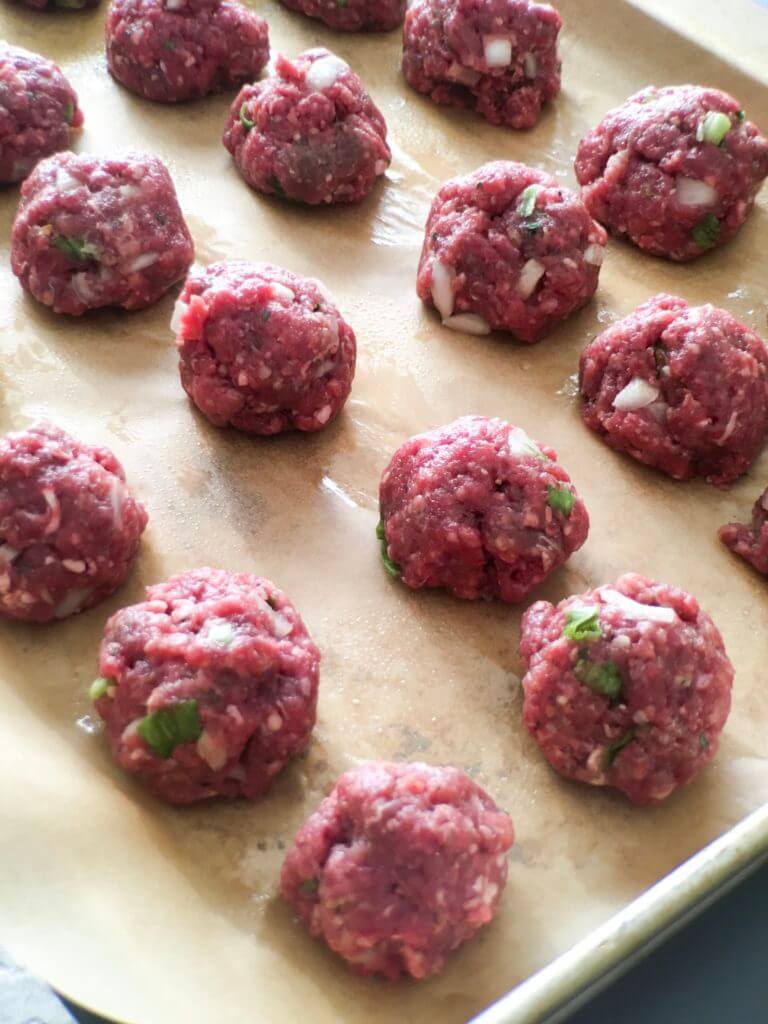 Quick tip: I usually make a big batch at the beginning of the month and freeze. These serve as an easy weeknight "throw together" meal.  All you have to do is spiralize some zucchini noodles and reheat the meatballs and you are good to go, will take less than 10 minutes.
In addition to the homemade meatballs I also make compliant marinara sauce that is to die for! This sauce literally takes no time to make, and just like the meatballs, you can make it ahead of time and freeze. When you are ready to use it, pull it from the freezer and warm up. It's good over chicken, ground beef, and just on some simple zucchini noodles. I do use a lot of garlic, so if you are not a fan, add however much you desire.
While living the Whole30 and Paleo lifestyle, I hate giving up flavorful food. That's why I makes these babies, they are so satisfying. I usually serve 2-3 meatballs over 2 cups of zucchini noodles topped with homemade marinara sauce.
| | |
| --- | --- |
| | |
Preheat the oven to 375° and line a baking sheet with parchment paper.

In a large mixing bowl, combine bison, egg, onions, seasoning, salt, and tapioca flour. Mix until everything is completely combined- the best way to do that is with clean hands.

Use a cookie scoop or a big spoon to scoop the meat. Roll between palms to make smooth. Size of a golf ball. Place on parchment paper and drizzle with olive oil.

Bake 25-30 minutes (depending on desired doneness).
Add in the cans of tomatoes, sauce and paste to a Dutch oven or cooking pot.

Use a small bowl and combine all of the seasonings and together.

Add the seasoning to the tomatoes. Use an immersion blender and blend together until smooth.

Add in a splash of olive oil or ghee and let simmer. (I find the longer I let mine simmer, the better it taste).
Tags : bison, clean, dinner, healthy, meatballs, paleo, whole 30, whole 30 meal, whole30