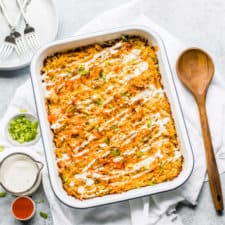 Print Recipe
Buffalo Chicken Casserole
A creamy Buffalo Chicken Casserole that is Whole30, Keto and Paleo compliant. Filled with shredded chicken, mayo, ranch, nutritional yeast, seasoning, green chilies and Franks Hot sauce. A perfect easy and quick weeknight dinner. 
2.5

lbs

cooked chicken breast

4 1/2 cups, shredded

3 1/2

cups

cauliflower rice

frozen or raw

1/2

cup

Franks Hot Sauce

2

tbsp

compliant ranch dressing

1/3

cup

compliant mayo

1/2

cup

chopped white onion

1/3

cup

green chilies or sub chopped banana peppers

1/3

cup

chopped green onions

Garnish with additional green onions and drizzle with 2 tbsp of ranch and a more hot sauce.
Seasoning:
1/2

tsp

salt

1

tsp

paprika

1/2

tsp

pepper

3/4

tsp

garlic powder

2 1/2

tbsp

nutritional yeast
Preheat oven to 350F.

Coat a 9X9 or a 9X13 baking dish with olive oil.

In a large bowl, add the cauliflower rice, onions, green onions, banana peppers or green chilies, cooked shredded chicken, Franks Red Hot Sauce, mayo, ranch, nutritional yeast and the rest of the seasoning. 

Mix all the ingredients together until completely combined. 

Transfer the mixture to the baking dish and add to the oven. 

Bake for 35-40 minutes or until the top is crispy and bubbling. 

Drizzle with ranch, top with fresh chopped green onions and add a little more Franks Hot Sauce to the top.

Enjoy!
Be sure to check the ingredients for the banana peppers for compliant ingredients. I love buying mine through Thrive Market, which is compliant for the Whole30 program. 
You can add in the cauliflower rice in frozen or raw. You do NOT have to cook it before adding it to the oven.
This will last in the fridge up to one week and in the freezer for 3 months.