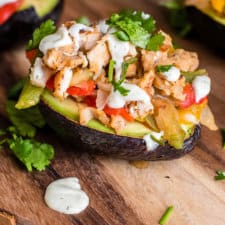 Print Recipe
Stuffed Chicken Fajita Avocado
These Chicken Fajita Stuffed Avocados are the perfect weeknight dinner for busy life. They are Whole30, Paleo and Keto compliant.
Servings:
4
Stuffed Avocados
Fajita Seasoning (this makes a big batch so you will have extra)
1 1/4

tsp

parsley

1 1/2

tbsp

paprika

1/4

cup

chili powder

1/2

tsp

onion powder

3

tbsp

black pepper

2

tbsp

sea salt

1 1/4

tbsp

ground cumin

1 1/2

tsp

garlic powder
Heat the skillet with 2 tbsp of olive oil. Thinly slice the chicken breast into long strips.

Add the chicken to a hot skillet. Allow to brown and then add in the fajita seasoning (2 tbsp) along with the bag of mixed peppers and onions (I use 1 bag of the PicSweet brand from Walmart). Cook until the chicken, peppers and onions are at desired doneness.

Slice 2 avocados down the middle and remove the pit. Place on a plate facing upright.

Stuff each avocado with the chicken and pepper mixture. Sprinkle with fresh cilantro and drizzle with my homemade ranch. (See notes to grab the link to my homemade ranch).

Add all of your seasonings to a jar and mix together with a spoon (This makes a big batch so you will have extra).