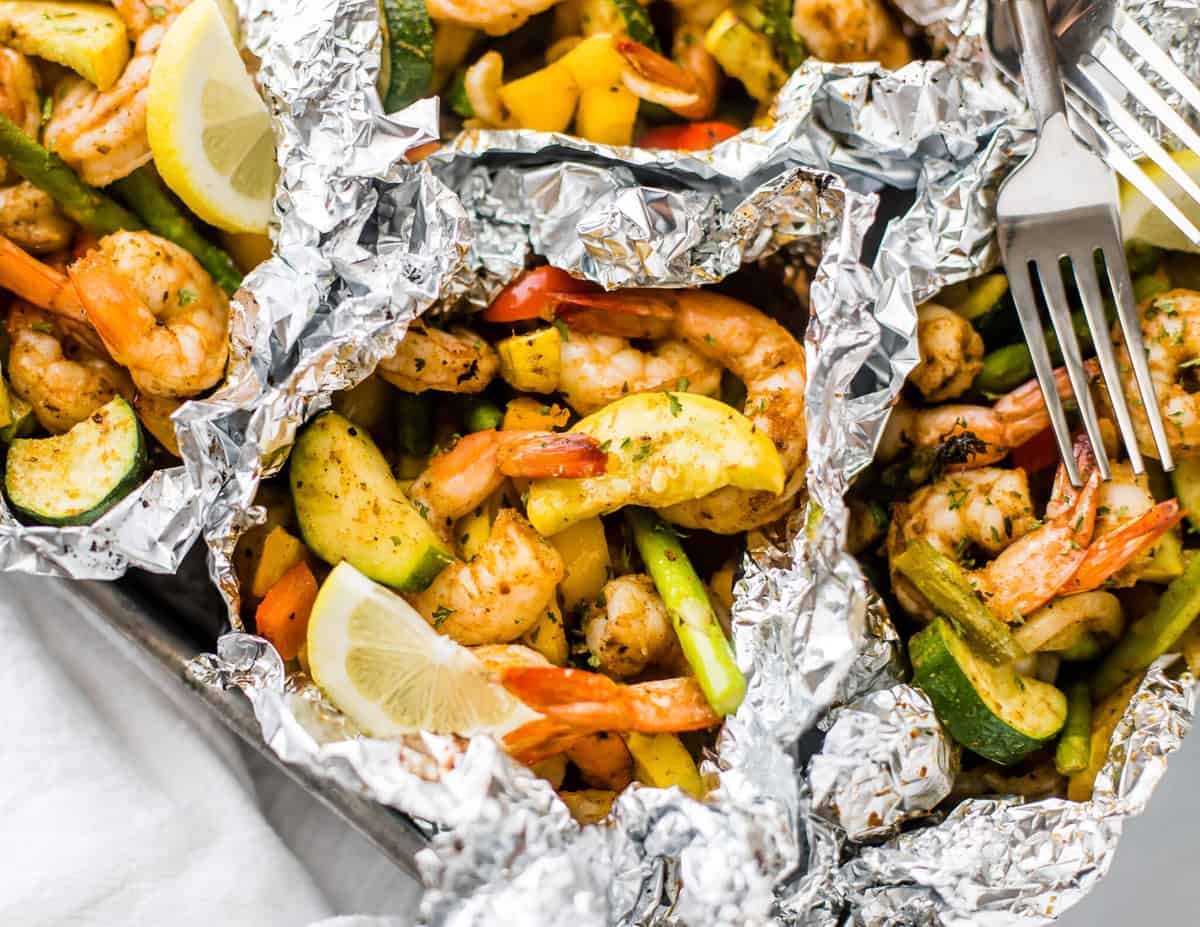 These Quick Cajun Shrimp Foil Packets are lifesaver for busy life. Not only are they super tasty, but they can be whipped up in 15-20 minutes. It doesn't get much better than that! Well maybe it does…..they are also Whole30, Paleo and Keto compliant. Healthy never looked so good.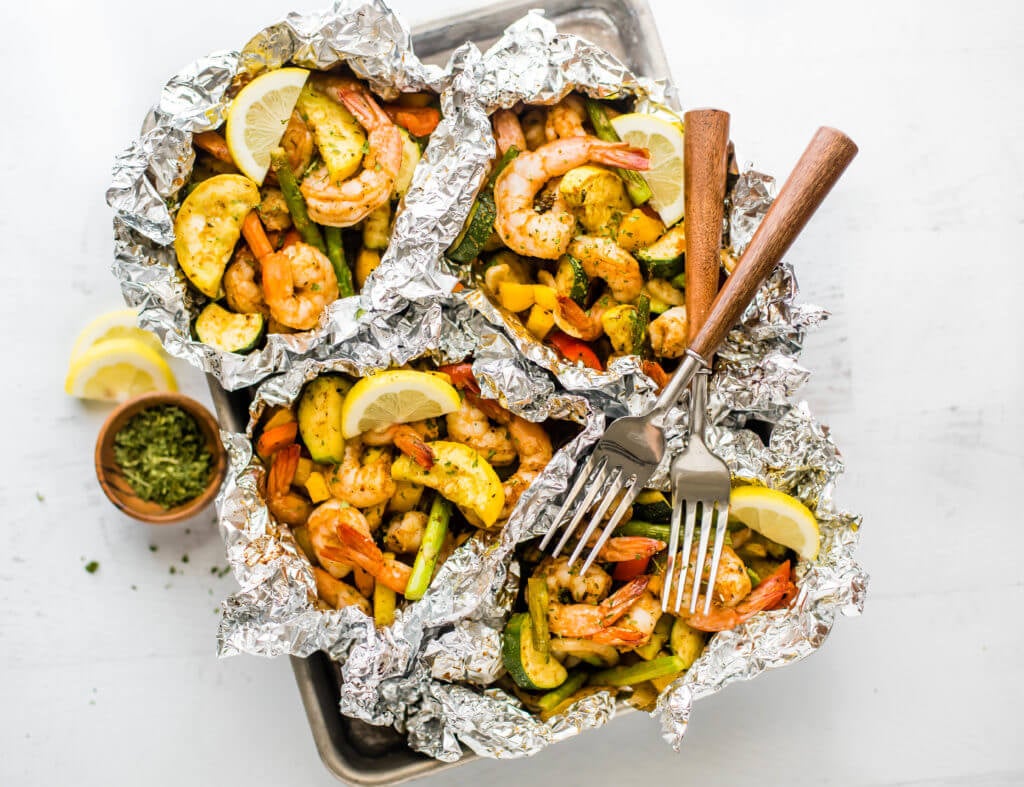 This meal is one that I crave, because it feels like comfort food and clean up is minimal. In addition to cooking in the oven, you can also add to the grill or smoker.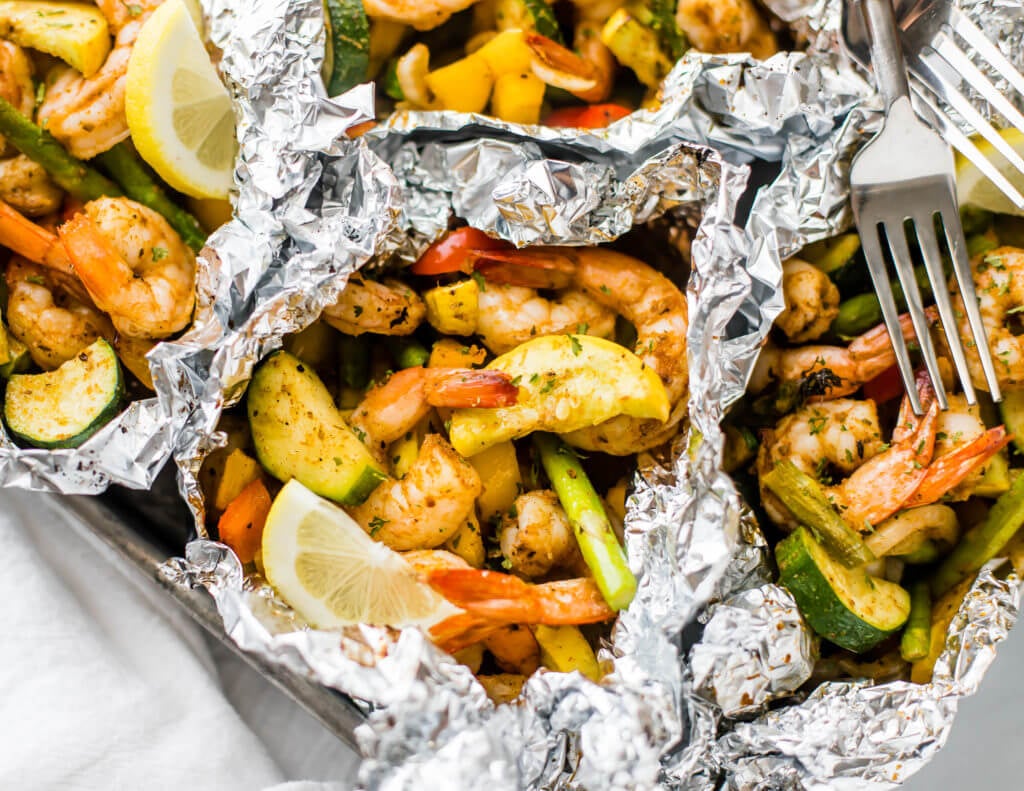 Each Cajun Shrimp Foil Packet is filled with shrimp, asparagus, zucchini, squash and red bell peppers. Before add this mixture to each foil packet, I toss in olive oil along with my famous Cajun seasoning that takes this recipe to a new level.
This recipe is so versatile. Feel free to mix it up and add any of your favorite vegetables, and protein option to make your own version that will please you. Also, if you are serving a crowd, simply double the recipe and you are good to go!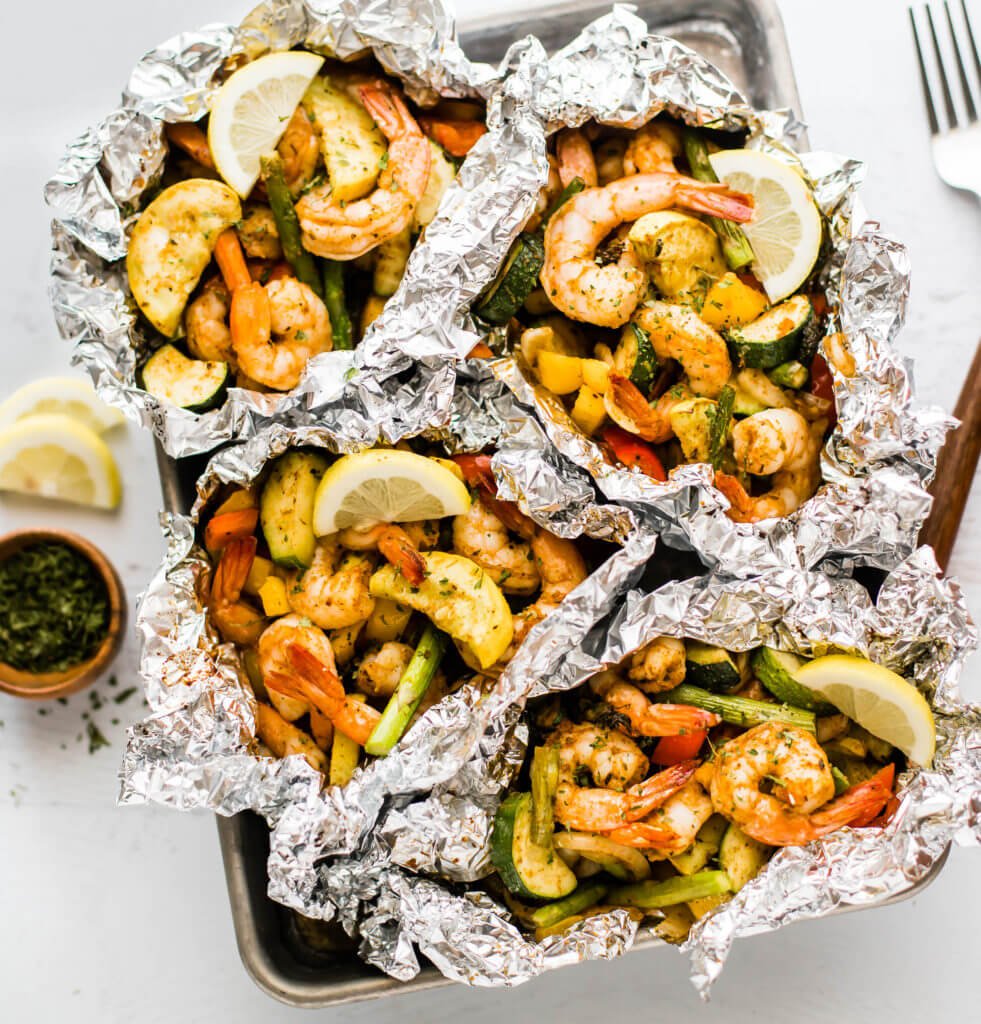 Can you marinate the shrimp for the Cajun Shrimp Foil Packets?
100% YES! It will probably be even better! I will always marinate if I have time, but sometimes life get super busy and I skip that step. Don't worry, it will taste good either way?
How to marinate the Cajun Shrimp: Place 2 1/2 tbsp olive oil, 1/2 of the Cajun seasoning and the shrimp in a gallon size baggie. Marinate 6-18 hours. You want to make sure that you save the other half of the Cajun seasoning to go on top of the veggies.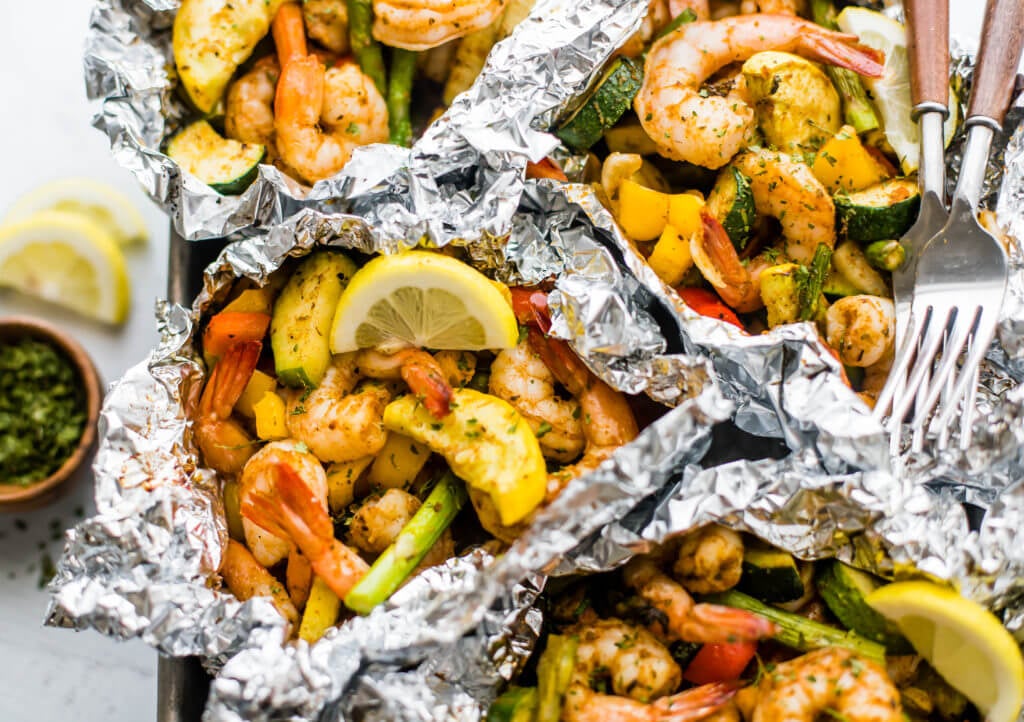 SHOP MY POST

Be sure to save this recipe to your Pinterest Board by clicking on the photo below:
Passive Time

25-30

minutes
Passive Time

25-30

minutes
Heat a large skillet over medium-high heat along with 1 tbsp of olive oil. Add the chicken breast seasoned with a little salt and pepper and cook 4-5 minutes on each side or until the internal temperature hits 165F.

Remove and place the chicken breast to the side and cover with aluminium foil to keep warm.

Meanwhile, clean and prepare the, zucchini, carrots, snapped peas and onions.

In the same skillet, add 2 tsp of sesame seed oil and heat over medium heat. Add all the veggies and combine together with a wooden spoon and cook until tender, 4-5minutes.

Cook the cauliflower rice as directed on the packaging.

Remove the chicken from the foil and cut into cubes using a knife. Transfer the cubed chicken into a large bowl. Slowly pour the teriyaki sauce over the chicken and combine using a spoon.

Build the bowls by adding the cauliflower rice to the bottom of the bowl and top with the chicken and veggies. Garnish with sesame seeds and and green onions. Enjoy!
Add in the coconut aminos, sesame seed oil, orange and pineapple juice, garlic and ground ginger to a saucepan over medium heat. Mix together with a spoon until combined.

Once the mixture comes to a slow boil add in the tapioca dissolved in water and combine. Turn heat to low. As it continues to heat the sauce will become thicker. Once thick, remove from heat.
*For Keto remove all fruit juices and sub using Monk Fruit Syrup. 
These delicious Whole30, Paleo and Keto Cajun Shrimp Foil Packets features neatly wrapped individual foil packs filled with shrimp, zucchini, squash, red peppers and asparagus that are grilled or baked to perfection. This is the perfect for easy and quick dinner that can be done in 20 minutes or less with minimal cleanup.
| | |
| --- | --- |
| | |
Add all the ingredients to a large bowl, chopped veggies and shrimp. Mix to combine.

Transfer the 1/4 cup olive oil and 1/2 lemon juice over the veggies and shrimp. Use your hands or a spoon to mix until olive oil is evenly dispersed.

In a small bowl, mix all the ingredients for the Cajun seasoning then transfer to the mixing bowl over the shrimp and veggies. Mix until completely combined.

Place four 18x12-inch pieces of heavy aluminum foil on a baking sheet.

Place the shrimp and veggie mixture on the foil then fold the foil over the shrimp and seal.

Grill or bake at 400 degrees for 15-20 minutes or until shrimp and vegetables are cooked through. Serve with cauliflower rice if desired
Note: You can marinate the shrimp if desired. Place 2 1/2 tbsp olive oil, 1/2 of the Cajun seasoning and the shrimp in a gallon size baggie. Marinate 6-18 hours.
Tags : Cajun Shrimp, Cajun Shrimp and Veggie Packets, Cajun Shrimp and Veggies, Foil Packets, keto recipes, Paleo Recipes, quick meals, shrimp, Whole30 Recipes