Today is World Food Day which promotes awareness and action for those who suffer from hunger and for the need to ensure food security and nutritious diets for all. I am so honored to have partnered with Convoy of Hope in their new Recipes for Hope campaign. The recipe I developed, is a hearty Chicken & Rice Soup along with Cheese Quesadillas.
As overweight and obesity rates soar worldwide, this year, World Food Day is calling for action to make healthy and sustainable diets affordable and accessible to everyone. Here are some stats to show how major this issue actually is.
Now over 670 million adults and 120 million boys and girls (age 5-19) are obese. 40 million children under 5 are overweight. 800 million people around the world suffer from hunger. An unhealthy diet is one of the leading causes of death across the globe from non-communicable diseases.
The good news is that affordable solutions exist to reduce all forms of malnutrition, but they require greater global commitment and action. Which means if together, we take action, we will see an end to this devastating global issue.
This recipe I created is not only affordable, but super filling and satisfying for everyone at the table. It is filled with chunks of chicken, broth and veggies to keep kinds tummy's and minds sharp and ready to take on the days. I also paired this with a cheese quesadilla that is great for dipping and adds a little more starch and carbs to the meal to keep you feeling full for hours.
This is why I am partnering with an incredible organization called Convoy of Hope. Convoy is taking major action specifically addressing this issue of hunger through their children's feeding initiative – they are feeding over 200,000 kids in 14 different countries around the world! This initiative is funded by a campaign called FeedONE. These children receive a nutritious meal each school day and Convoy of Hope monitors their health and growth daily. For many of the children, this is their only meal of the day.
Convoy of Hope doesn't want to stop there though. There is a waiting list of children desperately hoping to join the program. So we need YOUR help. It's a chance to get outside our own worlds for a quick second and realize how privileged we are living here in the US. We have amazing access to the best foods, grocery stores, and we don't think anything of it. This isn't how it is across the world though.
But there is something we can do to change that. Just $10 a day to FeedOne feeds a child for a month! Most people can afford to give $10. It's basically foregoing a coffee and gluten free muffin for one day. And think of the insane impact we could make if each of you gave $10! Let's join together and do this!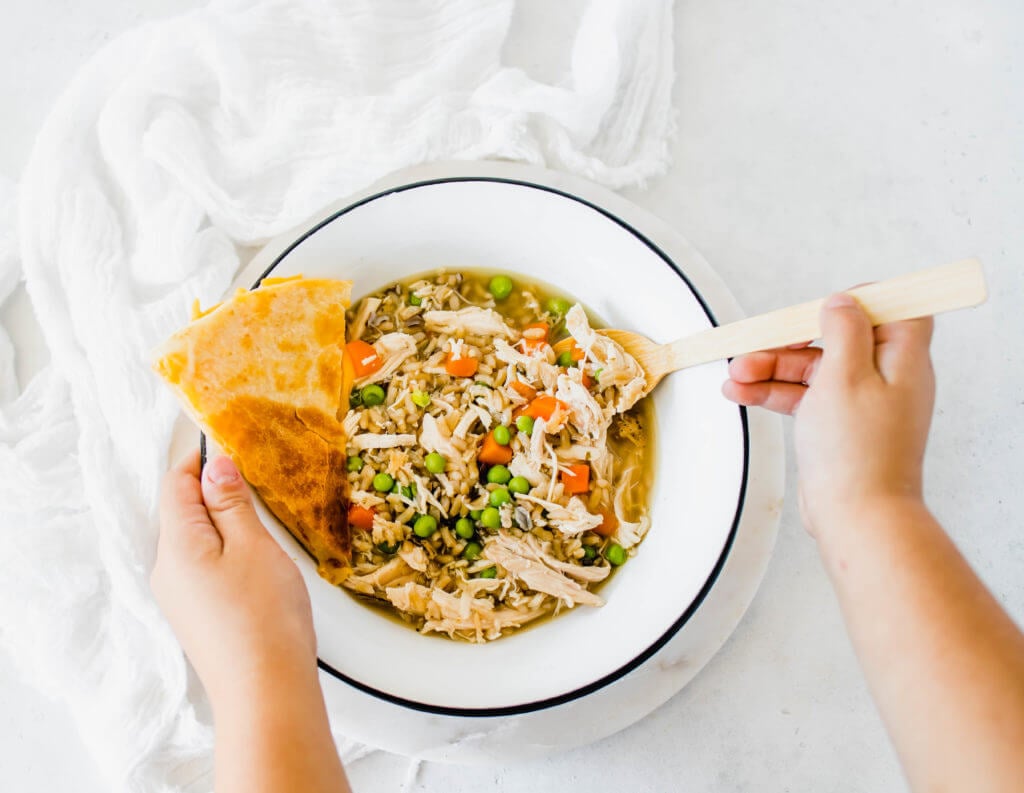 Place a large pot over medium heat and add the ghee along with the minced garlic. Mix together for a minute or so.

Transfer the shredded chicken to the pot and allow the ghee, garlic and chicken cook together for 3-4 minutes. (This gives the chicken a great flavor)

Pour in the chicken and beef broth in the pot with the chicken. Bring the liquid to a boil and then add the . Add in the rice and season with salt and pepper.

Pour the frozen peas and carrots in the broth and allow all this to cook for 25-30 minutes, or until the rice is tender.
Heat a large skillet over medium heat. Add the ghee and allow to melt down completely.

Place one large tortilla in the bottom of the skillet and evenly add the shredded cheese on top of the tortilla.

Place the second tortilla on top of the cheese. Cook 2 minutes on each side until browned and cheese melted.
*Note: To make this Paleo and Whole30 compliant, simply sub cauliflower rice for the brown rice and omit the green peas
Note: for the shredded chicken you can use rotisserie chicken. Just remove the skin and shred using a fork. 
To cook the chicken for the soup, bring a pot of water on the stove and add four chicken breast. Boil the chicken until the internal temperature is 165F. This will take about 6-7 minutes or so. Drain the water and shred the chicken once it is cooled. Use 2 forks to shred the chicken.