This post contains affiliate links
Here's the deal….I love food and I hate the misconception that this type of food can't be yummy. These mushrooms are proof that healthy can be both satisfying and delicious without making your pants tighter. These are the perfect addition to any social gathering or holiday party. You can even make these as a meal and serve with a side salad and you will have a happy tummy. They are so delicious, you will want to make them more than just a few times a year.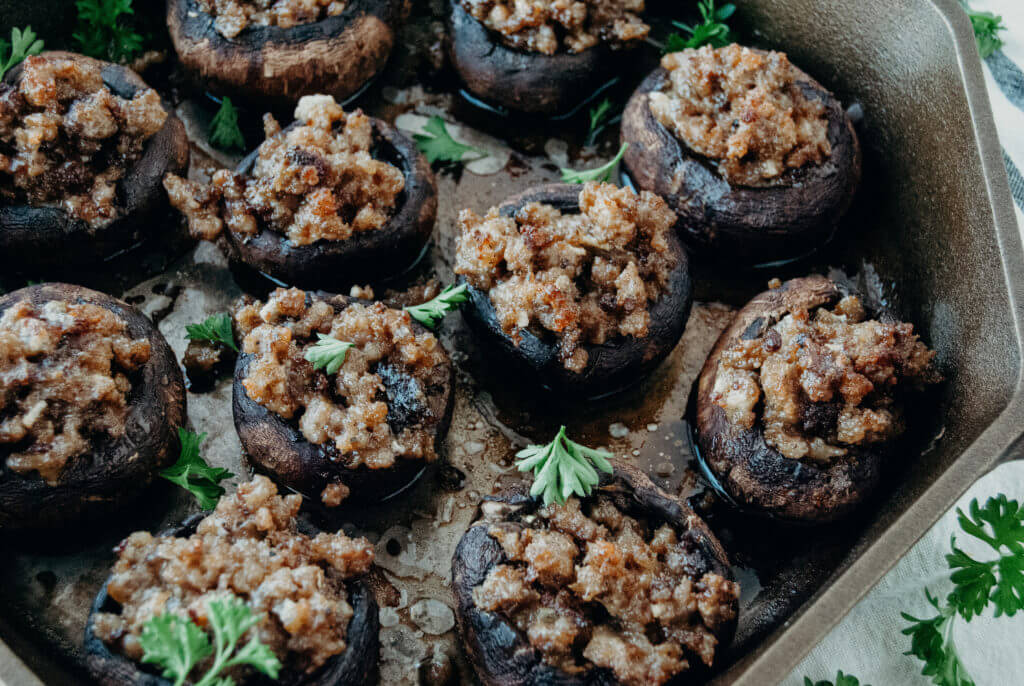 If you are completing a Whole30 or if you live Paleo, these are the perfect appetizer for your lifestyle. Even if you do not live this type of lifestyle, you will really enjoy these tiny circles of deliciousness. Be prepared to make enough, they usually go FAST! The combination of mayo mixed with the cooked sausage and stuffed into juicy mushrooms is almost too much to take. I usually will double the batch and make 2 to a social gathering just to make sure there is enough to go around.
Quick Tip for all you Whole30ers: If you are going to a social gathering where there will be limited food options for your Whole30, make a couple of compliant dishes that will satisfy and not leaving you reaching for the chips and salsa. In addition, I am not above packing me some compliant ranch in Tupperware and whipping it out of my purse and using it for veggie dipping. I never feel weird or guilty for making my Whole30 work in complicated settings/situation. Stick to your lifestyle and don't feel like you have to give everyone an excuse as to why you are eating 5 pieces of pizza and washing it down with 3 cans of beer.
XO-Mac
Creamy Sausage Mushrooms
---
Scale
Ingredients
Mushrooms
2

packages of baby portabella mushrooms cleaned

1

pound of compliant sausage

1 tbsp

olive oil
Mac's Awesome Sauce
1

egg

1 cup

of light olive oil

1/2 teaspoon

mustard powder

1 teaspoon

salt

1 tsp

crushed black pepper

1/4 tsp

lemon, juiced

1 tbsp

chopped onions

1/2 tsp

sea salt

2 tsp

coconut aminos
---
Instructions
Mac's Awesome Sauce
First, make your mayo by adding 1 egg, salt, lemon juice, 1 cup olive oil, 1 tsp of salt and 1/2 tsp ground mustard to a jar. Blend all ingredients together using your immersion blender. If you are using a regular blender, you will want to add your olive oil in slowly. Mix all ingredients together until thick and creamy. If you have a hard time getting it thick, try adding 1/4 cup more LIGHT olive oil.
Next, add in your coconut aminos, chopped onions, salt and pepper to your mayo mix. Mix together using a spoon.
Mushrooms
Heat oven to 400°F.
Coat your cast iron skillet with olive oil cooking spray and brown your sausage.
Once your sausage is done, transfer to the mixing bowl with the 1/2 cup of Mac's Awesome Sauce (Add more if desired) and mix all together.
Wash and clean your mushrooms and place face down in a cast iron skillet or baking sheet
Add a spoonful of the creamy sausage mixture into each mushroom.
Transfer to the oven to bake for 15 minutes on 400°F ( I cook mine a little longer to get crispy on top)
Top with fresh parsley
---